Space Foundation Press Releases
---
Jane Rasplicka Named Space Foundation Vice President – Finance & Accounting
Written by: developer
COLORADO SPRINGS, Colo. (March 2, 2016) – The Space Foundation has promoted Jane Rasplicka to vice president – finance & accounting, from her previous position as controller, effective immediately.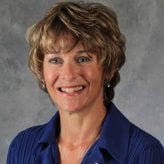 In this position, Rasplicka is responsible for managing a variety of financial aspects for the Space Foundation, including maintenance of financial records based on Generally Accepted Accounting Principles, purchasing and inventory, payroll, accounts payable and accounts receivable, banking, financial analysis and audit. Since joining the Space Foundation in 1991, Jane's responsibilities have also included budget generation and adherence, financial reporting and compliance to accounting policies and procedures. Prior to joining the Space Foundation, Jane worked in public accounting as a tax accountant. She earned a Bachelor of Science degree in accounting from Texas A&M University, Corpus Christi, and successfully earned her CPA certification.
As a vice president, Rasplicka is now a member of the Space Foundation's leadership team. See the complete leadership team here.
About the Space Foundation
Founded in 1983, the Space Foundation is the foremost advocate for all sectors of space, and is a global, nonprofit leader in space awareness activities, educational programs and major industry events, including the annual Space Symposium, in support of its mission "to advance space-related endeavors to inspire, enable and propel humanity." Space Foundation World Headquarters in Colorado Springs, Colo., USA, has a public Discovery Center, including El Pomar Space Gallery, Northrop Grumman Science Center featuring Science On a Sphere® and the Lockheed Martin Space Education Center. The Space Foundation has a field office in Houston and conducts government affairs from its Washington, D.C., office. It publishes The Space Report: The Authoritative Guide to Global Space Activity, and through its Space CertificationTM and Space Technology Hall of Fame® programs, the Space Foundation recognizes space-based innovations that have been adapted to improve life on Earth.  Visit www.SpaceFoundation.org, follow us on Facebook, Instagram, LinkedIn, Pinterest, Twitter, Google+, Flickr and YouTube, and read our e-newsletter Space Watch.
---
Posted in Space Foundation Press Releases