Spotlight
---
Elliot Pulham Presents Bill Nye with RNASA Award
Written by: developer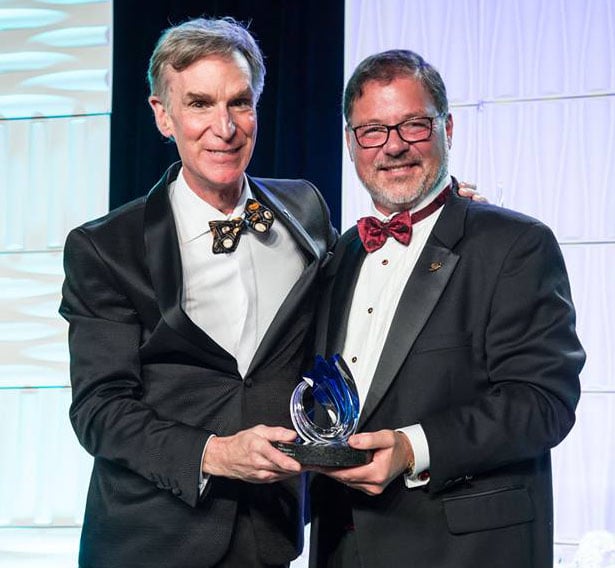 At the Rotary National Award for Space Achievement (RNASA) 30th annual black-tie Space Awards Gala, Space Foundation CEO Elliot Pulham presented the 2016 Space Communicator Award to Bill Nye, CEO of the Planetary Society and best known for his role as Bill Nye the Science Guy. Pulham previously presented Nye with a communications award in 2013 when the Space Foundation honored Nye with its Douglas S. Morrow Public Outreach Award for "significant contributions to the public awareness and understanding of space programs."
The Gala's top award of the evning was presentation of the 2016 National Space Trophy to Dr. Charles Elachi, Director, NASA Jet Propulsion Laboratory.
Featured speaker for the Gala was author and humorist P. J. O'Rourke, who is also a Space Foundation Board of Directors member.
The Rotary National Award for Space Achievement Foundation was founded by the Space Center Rotary Club of Houston, Texas in 1985 to organize and coordinate an annual event to recognize outstanding achievements in space and create greater public awareness of the benefits of space exploration.
This article is part of Space Watch: June 2016 (Volume: 15, Issue: 6).
---
Posted in Spotlight