Space Foundation Press Releases
---
Space Foundation Brings NASA Astronauts and STEM Education Program to Los Angeles Air Force Base
Written by: developer
COLORADO SPRINGS, Colo. (Oct. 31, 2016) – In November, the Space Foundation will bring its Space in the Community STEM education program to Los Angeles Air Force Base to inspire students to pursue careers in science, technology, engineering and math (STEM).
The week of Nov. 14 through 18, former NASA astronauts Lt. Col. Duane Carey, USAF (Ret.), and Col. Paul S. Lockhart, USAF (Ret.), will share their experiences in space with students at the following schools, co-sponsored by Air Force STEM Outreach:
92nd Street Elementary School
Alexander Fleming Middle School
Cimarron Avenue Elementary School
George Washington Preparatory High School
J.H. McGaugh Elementary School
Leland Elementary School
Richard Henry Dana Middle School
San Pedro High School
"The goal of this program is to leverage the resources in the area around Los Angeles Air Force Base, and encourage the community to continue investing in STEM education for its young people," said Elias Molen, Space Foundation Manager – Space Education. "This begins with engaging the students and teachers, and then expands to the community at-large."
The program will include an educator workshop on Saturday, Nov. 19, from 9:00 a.m. to 4:00 p.m., led by the Space Foundation education team. The workshop will help local teachers incorporate STEM lessons and hands-on activities into their classrooms and across the curriculum.
About Space in the Community
The Space Foundation's Space in the Community program is designed to interest young students in STEM-related careers. It builds partnerships in a community, lays a foundation for a skilled organic workforce and supports the workforce pipeline for economic development.
Space in the Community incorporates the Space Foundation's Audience with an Astronaut™ program by using former NASA astronauts to explain to students how science, technology, engineering and math (STEM) are applied in space. Learn more about Space in the Community, and other Space Foundation STEM education programs, by visiting DiscoverSpace.org.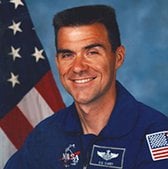 About Lt. Col. Carey
Carey attended the United States Air Force Test Pilot School at Edwards Air Force Base, Calif., and after graduation in 1992, he worked as an F-16 experimental test pilot and System Safety Officer at Edwards Air Force Base. He has logged over 4300 hours in more than 35 types of aircraft.
Carey was selected as a NASA astronaut candidate in 1996. After completing two years of training and evaluation, he qualified for assignment as a pilot, and served as pilot on STS-109, in 2002. STS-109 was the fourth Hubble Space Telescope servicing mission, and the crew successfully upgraded the Telescope with a new power unit, new camera and new solar arrays. He logged more than 10 days in space on the mission, while orbiting Earth 165 times.
Carey earned a Bachelor of Science degree in aerospace engineering and mechanics, and a Master of Science degree in aerospace engineering, both from the University of Minnesota. Carey has been awarded the Distinguished Flying Cross and three Air Medals.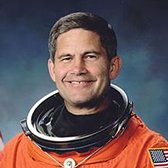 About Col. Lockhart
A U.S. Air Force test pilot for F-16 aircraft, Lockhart was selected by NASA as an astronaut candidate in 1996. Lockhart's two space missions were STS-111 and STS-113, both in 2002 to the International Space Station. He logged more than 5,000 hours in more than 30 different aircraft and the Space Shuttle, including 26 days in space.
In 2005, Lockhart left NASA and returned to the Air Force. He was assigned to the Royal College of Defence Studies, London, England, then served at the Pentagon. He retired from the Air Force in 2007.
Lockhart is a Texas native and earned a Bachelor of Arts degree in mathematics from Texas Tech University, and a Master of Science degree in aerospace engineering from the University of Texas. He is recipient of the Defense Superior Service Medal, Defense Meritorious Service Medal, Air Force Aerial Achievement Medal, Air Force Commendation Medal, Outstanding Unit Award with Valor, National Defense Service Medal and Air Force Achievement Medal, among other honors.
About the Space Foundation
Founded in 1983, the Space Foundation is the foremost advocate for all sectors of space, and is a global, nonprofit leader in space awareness activities, educational programs and major industry events, including the annual Space Symposium, in support of its mission "to advance space-related endeavors to inspire, enable and propel humanity." Space Foundation World Headquarters in Colorado Springs, Colo., USA, has a public Discovery Center, including El Pomar Space Gallery, Northrop Grumman Science Center featuring Science On a Sphere® and the Lockheed Martin Space Education Center. The Space Foundation has a Washington, D.C., office and field representatives in Houston and the Florida Space Coast. It publishes The Space Report: The Authoritative Guide to Global Space Activity, and through its Space CertificationTM and Space Technology Hall of Fame® programs, recognizes space-based innovations that have been adapted to improve life on Earth. Visit both of our websites — www.SpaceFoundation.org and www.DiscoverSpace.org — and follow us on Facebook, Instagram, LinkedIn, Pinterest, Twitter, Google+, Flickr and YouTube, and read our e-newsletter Space Watch.
# # #
Space Foundation contact:   
Carol Hively, Director – Public Relations & Team Communications
[email protected]
---
Posted in Space Foundation Press Releases