Report from Washington, D.C.
---
Space Foundation Hosts Aerospace 101 Events on the Hill
Written by: developer
On Jan. 24 and 25, the Space Foundation hosted two events on Capitol Hill, along with the Aerospace Industries Association (AIA) and the American Institute for Aeronautics and Astronautics (AIAA). The purpose of these events was to inform congressional staffers about the aerospace industry and introduce them to issues across the field. These "Aerospace 101" events (pictured below), held in the House of Representatives and the Senate respectively, brought out multitudes of staffers to hear from a fantastic panel of speakers over lunch.
The panelists were:
Carissa Christensen, Managing Partner, The Tauri Group
Dr. Alan H. Epstein, Vice President, Technology and Environment, Pratt & Whitney
John M. Grunsfeld, former Associate Administrator, Science Mission Directorate, NASA; former NASA astronaut
Dr. Mark J. Lewis, Director, Science and Technology Policy Institute, Institute for Defense Analyses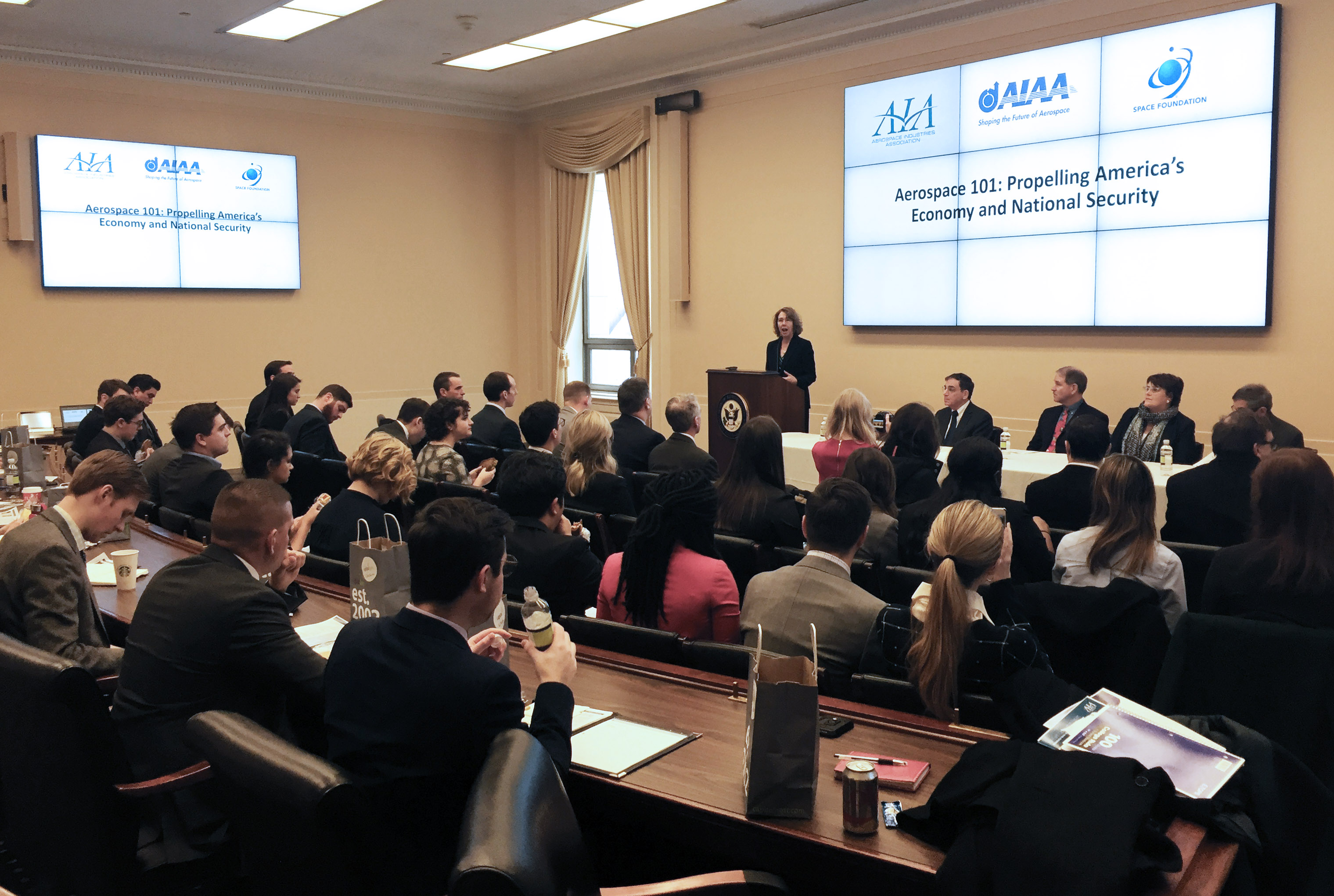 Following their presentations, the panel members took questions from staffers on several issues, including industry regulation, government funding levels for various programs and international competition.
One of the recurring themes touched on by the panelists included a strong desire for consistency and predictability in government funding. Given the resource constraints taken into account when passing a budget, the panelists agreed that predictable funding environments, more so than the actual funding levels themselves, were crucial to the growth of the space industry, from large companies to small start-up businesses.
The speakers also emphasized international threats to United States leadership in space and aeronautics activities, including airplane and component production, hypersonic travel technologies and the maintenance of a workforce that can meet the scientific and technological challenges of the future.
On the House side, the event kicked off with a special introduction from Congressman Steve Knight (R-CA), whose father, William J. "Pete" Knight, holds the world record for hypersonic travel. Congressman Knight, along with Congressman Derek Kilmer (D-WA), were honorary co-sponsors of the event in the House of Representatives. Senator Cory Gardner (R-CO) and Senator Martin Heinrich (D-NM) co-sponsored the event in the Senate.
This article is part of Space Watch: February 2017 (Volume: 16, Issue: 2).
---
Posted in Report from Washington, D.C.