Space Foundation Press Releases
---
Space Foundation Awards Scholarships to Minority-Owned Businesses
Written by: Space Foundation Editorial Team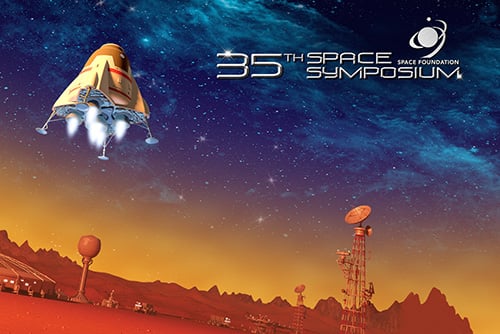 COLORADO SPRINGS, Colo. (March 20, 2019) — In an effort to increase diversity and expand networking opportunities with industry leaders, the Space Foundation has awarded scholarships for minority business owners to attend the 35th Space Symposium, to be held April 8-11, 2019, at The Broadmoor in Colorado Springs, Colo.
The customized program developed for the scholarship winners will feature workshop sessions, guest speakers and select networking engagements and receptions. The activity is designed to provide direct introductions and unprecedented partnership building opportunities at the Space Symposium.
The Space Symposium is the largest single event within the global space community and brings together leaders from government, civil, commercial and national security sectors. The Space Symposium is widely regarded as the most important annual forum for the discussion of space policy and programs. For over thirty years, the Symposium has provided unparalleled opportunities for business promotion and networking with companies from every portion of the space commerce industry, including local, national and international trade professionals and practitioners.
The scholarship awardees for the 35th Space Symposium are:
John Anderson, Anderco LLC, Pittsburg, CA

Youngwan Choi,

Anderson School of Management, UCLA,

Los Angeles, CA

Kendrick Faison, SpatialGIS, Odenton, MD

Stephanie Johnson, Simmons-Johnson Consulting, LLC, Richmond, TX

JarMarcus King, J&F Alliance Group Inc., Hampton, VA

Samuel Kiper, Nerd Dreams, Tarzana, CA

Srikanth Kodeboyina, Blue Eye Soft Corp; Greer, SC

T.K. Lamb, JDI, LLC, Altamonte Springs, FL

Monique Lampkin, MML Solutions & More, Richmond, TX

Linda Martinez, TL&Co Business Solutions, LLC; Park City, UT

Sahara Martinez, AIXA Media, Van Nuys, CA

Edgartt Melton, 7th Echelon LLC, Pearland, TX

Zachary Nelson, Zachary Nelson LLC, Tarzana, CA

Lisa Prudeaux, Prudeaux Paralegal Services, Walnut, CA

Edda Ramos, Bridging Technologies, Washington, D.C.

Johnny Sharp, People Property Prosperity, Culver City, CA

Arnaldo Soto, Jr., AQST Space Systems Group, LLC, Mesa, AZ

Danette Wilder, SealingLife Technology, Lexington, KY
The scholarships will provide:
complimentary registration for the 35th Space Symposium;

complimentary access to Space Symposium forums and exhibits;

special program and agenda for Space Commerce participants; and,

invitations to one of a kind corporate networking events.
Learn more about the 35th Space Symposium by visiting www.SpaceSymposium.org
Background
The Space Foundation has established a nationwide Space Commerce Program to promote the growth and/or expansion of minority businesses into space-based technology markets. This program is funded by a grant from the U.S. Department of Commerce / Minority Business Development Agency (MBDA).
Minority-owned businesses are defined by MBDA as businesses owned by African Americans, Asian Americans, Hasidic Jews, Hispanic Americans, Native Americans, and Pacific Islanders.
About the Space Foundation

Founded in 1983, the Space Foundation is a 501(c)(3) nonprofit and the world's premier organization to inspire, educate, connect, and advocate on behalf of the global space community. It is a leader in space awareness activities, educational programs, and major industry events, including the annual Space Symposium. Space Foundation headquarters is in Colorado Springs, Colo., USA, and has a public Discovery Center, including El Pomar Space Gallery, Northrop Grumman Science Center featuring Science On a Sphere®, and the Lockheed Martin Space Education Center. The Space Foundation has a Washington, D.C., office and field representatives in Houston and the Florida Space Coast. It publishes The Space Report: The Authoritative Guide to Global Space Activity, and through its Space Certification™ and Space Technology Hall of Fame® programs, recognizes space-based innovations that have been adapted to improve life on Earth. Visit both of our websites – www.SpaceFoundation.org and DiscoverSpace.org – and follow us on Facebook, Twitter, Instagram, LinkedIn, and YouTube.
# # #
Space Foundation Media Contact:
Carol Hively, Director – Public Relations & Team Communications
---
Posted in Space Foundation Press Releases