Space Foundation News
---
Space Foundation 2018 Annual Report
Written by: Space Foundation Editorial Team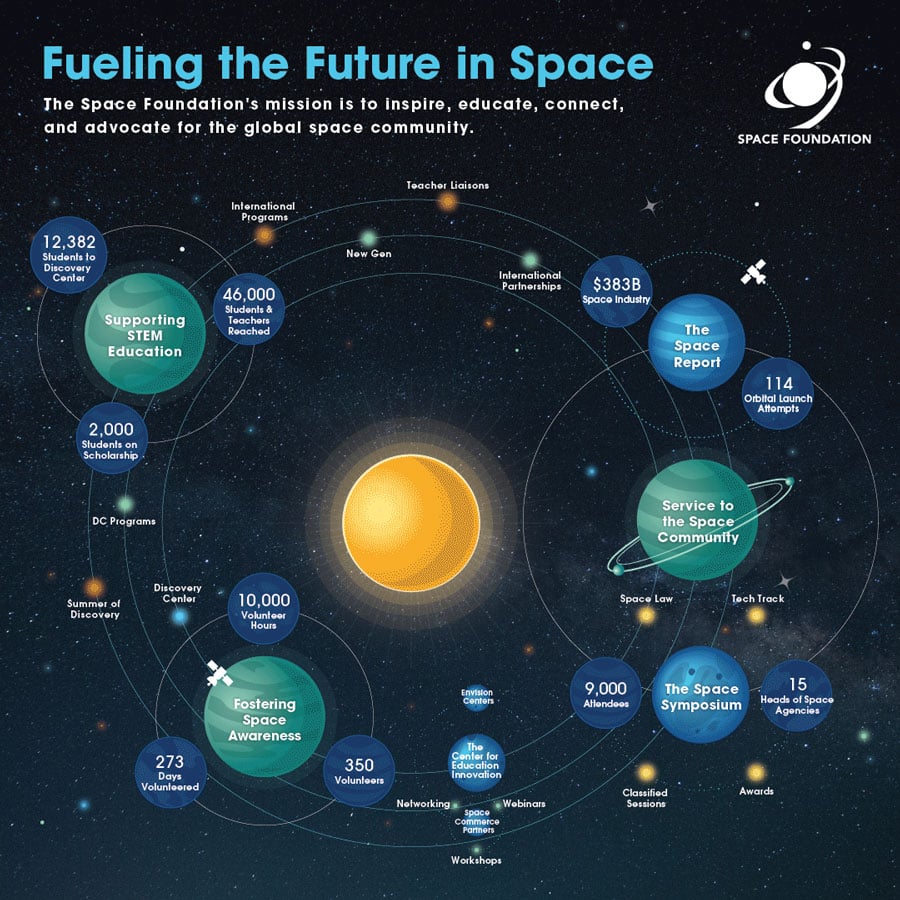 Since 1983, the Space Foundation has been dedicated to inspiring, educating, advocating, and connecting on behalf of the space community. As a charitable organization, we are committed to engaging the public, private, nonprofit, academic, and other sectors pursuing world-changing endeavors that benefit the public interest. In this, we bring together a diverse, international space community united by its aspiration to reach for the stars and bring the rewards we realize back to Earth.
Thirty-six years later, our mission is as important as it has ever been. In the vibrant global space industry, we are on the cusp of new ventures to the Moon, Mars, and beyond. New technological capabilities are being developed, tested, and brought to market at a rapid pace. Joining this dynamic environment are new organizations, competitors, and countries from around the world that are looking for their own opportunities for discovery. In short, the space community has entered a new era, and the Space Foundation's work in 2018 and in the years ahead is contributing to the collaboration and growth that will take us places we have never ventured before.
Our 2018 Annual Report records much of the story and impact of our recent ventures, from record-breaking annual Space Symposium attendance to growing global interest in our STEM curricula and professional educator development programs. But building a space-aware, empowered generation is not just about celebrating the past. It's about building a future where opportunity, diversity, and capabilities always have a home. In the 2018 Annual Report, we share our roadmap for how we will cultivate this exciting future by bringing more students, teachers, entrepreneurs, policymakers, innovators, investors, advocates, and more to the space community table.
See the 2018 Annual Report here.
---
Posted in Space Foundation News