Space Foundation Press Releases
---
S-Network Space Index is First Certified Space Data Product
Written by: Space Foundation Editorial Team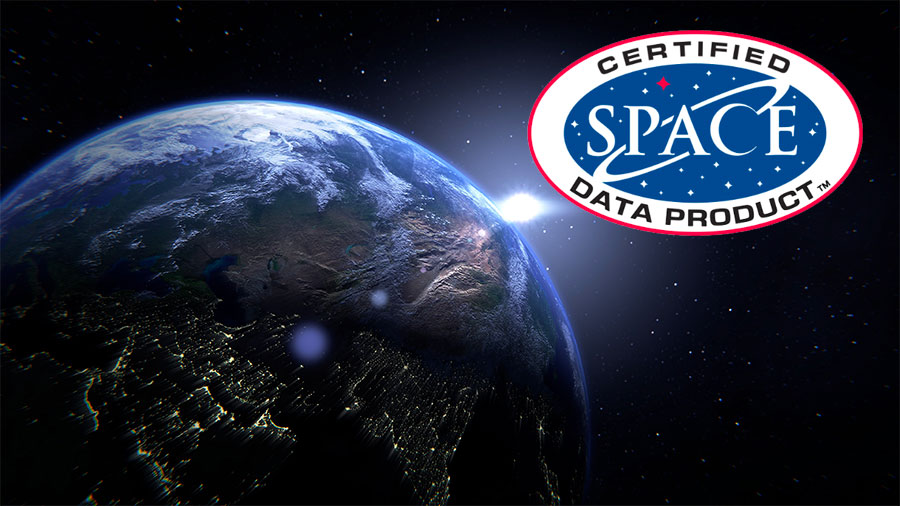 COLORADO SPRINGS, Colo. (April 13, 2019) — The Space Foundation announces the addition of the S-Network Space Index to its Space Certification program. The index is the inaugural entry in the newest Space Certification category, Space Data Products. Eligible products and services are those that either use data collected from space systems or provide data about space and the space industry. 
The S-Network Space Index enables investors to track the performance of a portfolio of companies from around the world that are active in space-related businesses such as satellite-based telecommunications; transmission of television and radio content via satellite; rocket and satellite manufacturing, deployment, operation and maintenance; manufacturing of ground equipment that relies on satellite systems; development of space technology and hardware; and space-based imagery and intelligence services. As a Certified Space Data Product, the S-Network Space Index is recognized by the Space Foundation as a source of reliable information about the global space industry.
Unlike other indexes that combine space with other sectors such as defense or deep sea exploration, the S-Network Space Index is considered a "pure-play" space index. To be considered for inclusion in the S-Network Space Index, a company must generate either (1) at least 20% of its revenue or (2) at least USD $500 million in revenue from space-related business. In accordance with the pure-play nature of the index, 80% of the total index weight is assigned to companies whose space-related business generates at least 50% of annual revenue (in practice, most such companies generate 100% of their revenue from space).
The S-Network Space Index has been licensed for use as the underlying index for the Procure Space ETF (exchange-traded fund) that began trading on April 11, 2019, on the New York Stock Exchange under the ticker "UFO."
"Data always tells a story and we are excited to share the insightful story that the S-Network can tell us the growth of space continues in the financial sector," said Rich Cooper, Space Foundation Vice President – Strategic Communications & Outreach. "The S-Network Space Index provides a valuable benchmark, both for investors and for industry analysts. We are pleased to include the Space Index in our upcoming release of The Space Report as one of the global economic indicators we monitor.  We are also very proud to highlight our partnership with the S-Network through our Space Certification Program and its newest category, Certified Space Data Product. They are a true pioneer in space data usage and application and we're very excited where this future will take us."
The index was developed by S-Network Global Indexes, Inc., in collaboration with Space Investment Services LLC.
"We applaud the Space Foundation's decision to create a new Space Certification category," said Micah Walter-Range, founder of Space Investment Services. "Given the rapidly rising number of products that depend on information flowing from or through space, we expect there will be many more Certified Space Data Products in the near future, and we are honored to have been first."
Learn more about the S-Network Space Index by visiting: http://space.snetglobalindexes.com.
About Space Investment Services
Space Investment Services LLC helps companies in the financial sector understand and navigate the complexities of the global space industry. The company provides data and consultation to startups, angel investors, venture capital firms, and institutional investors, as well as tracking the performance of publicly traded companies active in the space industry. Its mission is to facilitate well-informed investment in space companies so that investors can participate in these exciting ventures with a better appreciation of both the risks and rewards.
About S-Network Global Indexes
S-Network Global Indexes, Inc. is a publisher and developer of proprietary and custom indexes. S-Network began publishing indexes in 2006 and currently publishes over 300 indexes, which serve as the underlying portfolios for financial products with approximately USD 7 billion in assets under management. S-Network indexes, which are supported by a state-of-the-art technology platform, are known for their transparency and efficiency. Learn more at http://snetglobalindexes.com.
About the Space Foundation
Founded in 1983, the Space Foundation is a 501(c)(3) nonprofit and the world's premier organization to inspire, educate, connect, and advocate on behalf of the global space community. It is a leader in space awareness activities, educational programs, and major industry events, including the annual Space Symposium. Space Foundation headquarters is in Colorado Springs, Colo., USA, and has a public Discovery Center, including El Pomar Space Gallery, Northrop Grumman Science Center featuring Science On a Sphere®, and the Lockheed Martin Space Education Center. The Space Foundation has a Washington, D.C., office and field representatives in Houston and the Florida Space Coast. It publishes The Space Report: The Authoritative Guide to Global Space Activity, and through its Space Certification™ and Space Technology Hall of Fame® programs, recognizes space-based innovations that have been adapted to improve life on Earth. Visit both of our websites – www.SpaceFoundation.org and DiscoverSpace.org – and follow us on Facebook, Twitter, Instagram, LinkedIn, and YouTube.
###
Space Foundation Media Contact:
Rich Cooper, Space Foundation Vice President – Strategic Communications & Outreach
[email protected]
Cell: 202 596-0714
---
Posted in Space Foundation Press Releases