Space Foundation Press Releases
---
Give Your Kids Some Space This Summer at the Space Foundation Discovery Center
Written by: Space Foundation Editorial Team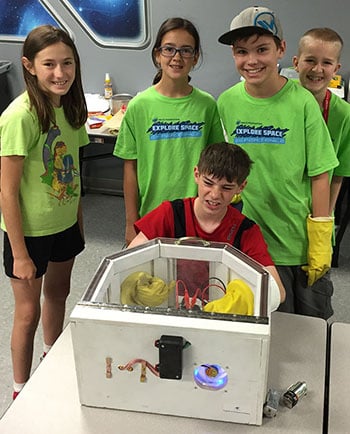 COLORADO SPRINGS, Colo. (May 13, 2019) – The Space Foundation Discovery Center in Colorado Springs is bringing back its summer Explore Space Experience for children ages eight through 13. Explore Space Experience was created to provide full-day summer activities to inspire and engage children, and to provide an educational, memorable experience. Future space explorers will enjoy a variety of hands-on, immersive activities and experiences based on space and science, technology, engineering, art and math (STEAM).
Slade Bradbury, one of the Space Foundation Space Education Specialists who helps coordinate the program, said, "Explore Space Experience is a chance for your kids to stay mentally engaged throughout the summer and have fun in the process. Learning is happening and friendships are being made. Space is for everyone!"
Four Explore Space Experience full-day sessions will be offered this summer for two age groups, eight through 10, and 11 through 13.
The 2019 Explore Space Experience themes are:
Fun with Tomorrow's Technology
Participants will practice coding with the newest tech-toys and innovate ideas into reality.
Ages 8 – 10, June 17 – 21
Ages 11 – 13, June 24 – 28
Space Design and Exploration
Participants will complete exciting design challenges centered around space and gain knowledge about space exploration beyond our solar system. They will also discover if life may exist beyond Earth. 
Ages 8 – 10, June 24 – June 28
Ages 11 – 13, June 17 – June 21
Mission to Mars
Participants will study the red planet, learn what it will take to get us there, and create solutions for how people can live on Mars.
Ages 8 – 10, July 8 – 12
Ages 11 – 13, July 15 – 19
Become an Apollo Astronaut
In recognition of the Apollo 11 anniversary, participants will conduct lunar design challenges, train like an astronaut and use new technologies to learn what the future of lunar exploration has in store for humankind.
Ages 8 – 10, July 15 – 19
Ages 11 – 13, July 8 – 12
Register Now
Advance registration is required. The schedule is 9:00 a.m. to 4:00 p.m., Monday through Friday, and the fee is $295 per session. Sign up now for multiple sessions and receive a discount.
The sessions are held on site and indoors at the Space Foundation Discovery Center, 4425 Arrowswest Drive, just off of Garden of the Gods Road in Colorado Springs. The program does not include lunch or snacks. See registration and scholarship information at http://bit.ly/ESE2019SF or email [email protected].
Stay up to date with all Space Foundation Discovery Center events by visiting https://www.discoverspace.org/events.
About the Discovery Center
Located only five minutes from Garden of the Gods Park, the Space Foundation Discovery Center is the region's only space, science and technology attraction. Visitor hours are 10:00 a.m. to 4:00 p.m., Tuesday through Saturday.
For daily visit pricing and other information, go to www.discoverspace.org, or call the Space Foundation at 719.576.8000. Follow the Space Foundation Discovery Center on Facebook and Twitter.
About the Space Foundation
Founded in 1983, the Space Foundation is a 501(c)(3) and the world's premier organization to inspire, educate, connect, and advocate on behalf of the global space community. It is a nonprofit leader in space awareness activities, educational programs, and major industry events, including the annual Space Symposium. Space Foundation headquarters is in Colorado Springs, Colo., USA, and has a public Discovery Center, including El Pomar Space Gallery, Northrop Grumman Science Center featuring Science On a Sphere® and the Lockheed Martin Space Education Center. The Space Foundation has a Washington, D.C., office and field representatives in Houston and the Florida Space Coast. It publishes The Space Report: The Authoritative Guide to Global Space Activity, and through its Space CertificationTM and Space Technology Hall of Fame® programs, recognizes space-based innovations that have been adapted to improve life on Earth. Visit both of our websites www.SpaceFoundation.org and DiscoverSpace.org – and follow us on Facebook, Twitter,Instagram, LinkedIn and YouTube.
# # #
Space Foundation Contact:   
Colleen Parith, Coordinator – Social Media & Public Relations 
[email protected]
Friday, May 10, 2019
---
Posted in Space Foundation Press Releases