Space Foundation News
---
Lockheed Martin Funds Space Foundation STEM Program in Huntsville
Written by: Space Foundation Editorial Team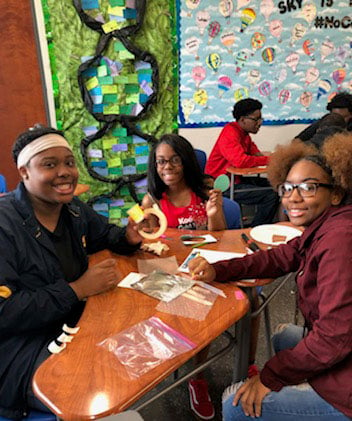 Today, the Space Foundation's Space in the Community program began in Huntsville, Ala., thanks to funding by Lockheed Martin. Space in the Community is designed to help a community develop a STEM education and career pipeline to grow a community's organic workforce and strengthen economic development. The program inspires students through hands-on activities, enables teacher support through professional development and propels the community to get involved through special events.
Lockheed Martin has been a part of the Huntsville community for over five decades and is committed to developing a strong talent pipeline in the area. With an ever-changing industry, the company is committed to working with educators, policy makers and families to develop programs that educate and inspire tomorrow's scientists, engineers and mathematicians.
The Space in the Community program this week includes presentations by former NASA astronaut Lt. Col. Duane Carey, USAF (Ret.), at six schools in the Huntsville region. Space Foundation educators lead the students through space-based activities that support the students' learning in science, technology, engineering and math (STEM).
Learn more about the Space Foundation's Space in the Community program here. And learn more about Lockheed Martin's support of STEM education by visiting the website here.
Wednesday, May 15, 2019
---
Posted in Space Foundation News