Space Foundation News
---
Free Admission for 25 Military Families to Discovery Center's Apollo 11 Anniversary Celebration
Written by: Space Foundation Editorial Team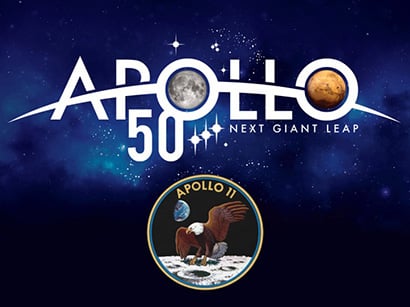 Thanks to premier sponsor Raytheon, the Space Foundation Discovery Center will offer free admission to the first 25 military families in line when doors open at 10:00 a.m. on July 20 for the Apollo 11 50th Anniversary Celebration. This full-day event will feature a variety of indoor and outdoor activities for all ages to commemorate the 1969 Moon Landing.
Located near Garden of the Gods Park at 4425 Arrowswest Drive in Colorado Springs, the Space Foundation Discovery Center is the region's only space, science and technology attraction and provides an ideal setting for learning about the importance of the Moon landing to our current activity in space.
Things to do on July 20 will include:
Building rockets
Apollo virtual reality
Science On a Sphere® presentations
United States Air Force Academy presents engineering the chemistry of rockets
United States Postal Service one-of-a-kind Apollo 11 postmark celebration and unveiling of new First Moon Landing stamp
Drive a Rover in our Mars Robotics Laboratory
Astronaut obstacle course
Space face painting presented by Magic by Larry Scott
Food trucks
Tickets are now available for "Breakfast with an Astronaut," at the Discovery Center on July 20. Meet former NASA astronaut Duane "Digger" Carey and hear his inspiring story about his journey to space.
Admission on July 20 will also include access to the Discovery Center's Summer of Discovery exhibit "Build!"
Please note, the free military family offer is limited to the first 25 families and up to 4 family members, with I.D.
The Discovery Center is open to the public 10:00 a.m. to 4:00 p.m., Tuesday through Saturday. Learn more by visiting www.discoverspace.org.
Friday, June 14, 2019
---
Posted in Space Foundation News