Space Foundation News
---
Volunteer at the Space Foundation
Written by: Space Foundation Editorial Team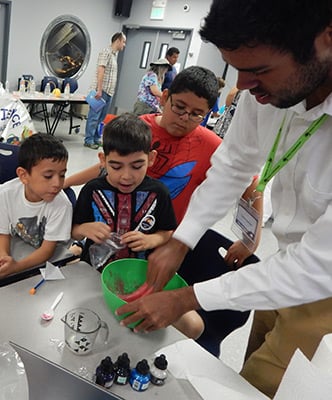 We are seeking excited, motivated space lovers to volunteer at the Space Foundation headquarters in Colorado Springs. As a 401c(3) nonprofit, we could not do the work we do without the generous and tireless support of volunteers.
If you are interested in space, this is the place to be. We provide meaningful work for our volunteers that contributes directly to supporting our mission: to inspire, educate, connect, and advocate for the global space community.
By volunteering, you can:
Have a positive impact on the exploration of space and the global benefits space provides
Meet and work with influential space leaders
Integrate volunteering with your education, professional training or career advancement
Enhance your knowledge of space sectors, programs and organizations
Earn recognition throughout the year with various incentives
Volunteer opportunities are also available in the Space Foundation Discovery Center, the region's only space and science center.
Anyone interested in volunteering is invited to our free orientation on Thursday, June 27, at 4:00 p.m. Registration is suggested but not required, and the orientation will last approximately 90 minutes.
Anyone who is interested in volunteering, but is unable to attend the event, may contact our Volunteer Program Manager, Jennifer Walters, at [email protected].
Friday, June 21, 2019
---
Posted in Space Foundation News