Space Foundation Press Releases
---
Apply Now to Become a Space Foundation Teacher Liaison
Written by: Space Foundation Editorial Team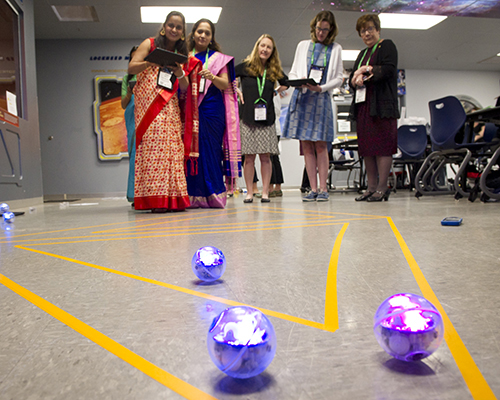 • Deadline to apply is Sept. 30.
• Connect with other educators who use space curriculum in the classroom.
• Open to teachers, school administrators, curriculum
developers, and more.
COLORADO SPRINGS, Colo.(Aug. 29, 2019) — Do you have what it takes to be a Space Foundation Teacher Liaison? Begun in 2004, this prestigious, internationally recognized program provides select educators with benefits and privileges that will improve their teaching skills, strengthen their resumes, and influence space and science education on an international level.
Teacher Liaisons tend to be Master Teachers who want to inspire students to pursue and excel in the areas of science, technology, engineering, and math (STEM). Membership is open to educators of all disciplines, ranging from science and math, to language arts, physical education, special education, and the arts. Applicants must demonstrate how they integrate space education into their curriculum.
This free program is open to public, private, and homeschool teachers, school administrators such as principals, specialists, curriculum and instruction developers, as well as others who deliver educational programs to students.
A new flight of Teacher Liaisons is selected each January. If chosen for the program, teachers receive Space Foundation training (pictured) and resources to further integrate space into their classrooms, and are invited to attend the Space Foundation's Space Symposium held each spring in Colorado Springs.
Apply now for the Teacher Liaison program at liaisons.spacefoundation.org/
About the Space Foundation
Founded in 1983, the Space Foundation is a 501(c)(3) nonprofit, and the world's premier organization to inspire, educate, connect, and advocate on behalf of the global space community. It is a leader in space awareness activities, educational programs, and major industry events, including the annual Space Symposium. Space Foundation headquarters is in Colorado Springs, Colo., USA, and has a public Discovery Center that includes El Pomar Space Gallery, Northrop Grumman Science Center featuring Science On a Sphere®, and Lockheed Martin Space Education Center. The Space Foundation has a Washington, D.C., office, and field representatives in Houston and on the Florida Space Coast. It publishes The Space Report: The Authoritative Guide to Global Space Activity, and through its Space Certification™ and Space Technology Hall of Fame® programs, recognizes space-based innovations that have been adapted to improve life on Earth. Visit www.SpaceFoundation.org, and follow us on Facebook, Twitter, Instagram, LinkedIn, and YouTube.
# # #
Space Foundation contact:  Carol Hively, Director – Public Relations & Team Communications [email protected]
---
Posted in Space Foundation Press Releases