Education
---
Why We Do What We Do
Written by: Bryan DeBates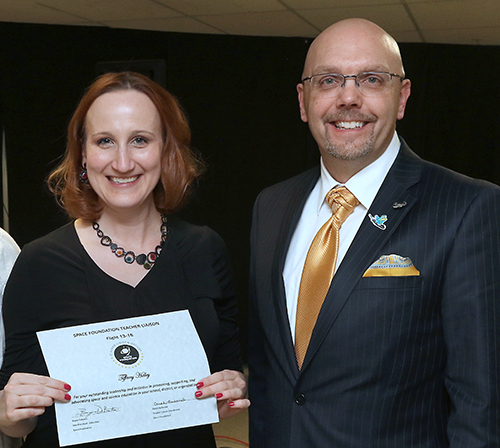 Tiffany Haley with Bryan DeBates
The Space Foundation's STEM education outreach focuses on the ripple effect of influence that an exceptional educator can have on hundreds, or even thousands of students. One way we inspire educators is through our Teacher Liaison program, which began in 2004 to provide teachers with space-based training, resources, and support.
Teacher Liaisons tend to be Master Teachers who want to inspire the next generation of students to pursue, and excel in, the areas of science, technology, engineering, and math (STEM). Membership in this free program is open to educators of all disciplines, ranging from science and math, to language arts, physical education, special education, and the arts.
One thing these Teacher Liaisons have in common is their extraordinary dedication to inspiring students. Once they're accepted into the program, new Teacher Liaisons are invited to attend the Space Foundation's Space Symposium, held each spring in Colorado Springs. This conference brings together thousands of the world's top space leaders, representing all sectors of the global space community, and always includes an educational component. Teacher Liaisons are not only invited to attend themselves, but they are also invited to bring their students for a tour of the Symposium exhibit center.
As a child, Tiffany Haley was one of those fortunate students whose 7th-grade class was invited to attend the Space Symposium. That Symposium experience, which included meeting Apollo 11 Command Module pilot Michael Collins, sparked her love of space. Afterward, she began saving her babysitting money to attend space camp, and her career path was launched. She returned to the Space Symposium years later as a Teacher Liaison and presented a teacher lesson plan to attendees.
Here is a snapshot of Tiffany's career path:
Born in Colorado Springs, Tiffany earned her Girl Scouts Gold Award by sewing sound- and light-reducing blankets for babies in Memorial Hospital's Newborn Intensive Care Unit (NICU).
As a Memorial Hospital volunteer, she spent most of the 1,000 hours she worked assisting in the NICU, and during that time was nominated and selected to carry the 1996 U.S. Olympic torch.
Tiffany earned her BA from the University of Colorado Boulder, and then her master's degree from Loyola Marymount University in Los Angeles.
Teach for America assigned Tiffany to middle school science classes in Compton, California.
She then taught in Middletown, Connecticut, where she was named Middle School Science Teacher of the Year, during which time she also earned a second master's degree.
Returning to Colorado Springs, Colorado, she instructed both engineering and astronomy classes at Air Academy High School, excelling as a teacher of honors courses including: Introduction to Engineering Design, Digital Electronics, Civil Engineering, Architecture, Aerospace Engineering, and Astronomy.
She was accepted into the Space Foundation's Teacher Liaison program in 2016, and in 2018 received the Dr. Rochelle Abrams Space Across the Curriculum Educator Training Scholarship.
She received the Air Force Association's Lance P. Sijan Chapter Teacher of the Year award in 2019.
Earlier this month, our Teacher Liaison program suffered a tragic loss when Tiffany Haley passed away suddenly at the age of 41. We'll remember her as someone who lived life fully, and as an exceptional educator who taught her students to enjoy learning. She was a hands-on teacher, and her enthusiasm led students on field trips to such places as construction sites, the United States Air Force Academy's wind tunnel, and student-built rocket launches. She engaged her students with fun computer projects like designing homes and castles, and creating gingerbread houses, electrical circuit projects, and 3D-printer holiday ornaments.
Tiffany exemplified what our Teacher Liaison program is all about, and why we do what we do here at the Space Foundation.
Learn more here.
Bryan DeBates is Space Foundation Vice President – Education
# # #
---
Posted in Education