Public Policy and Government Affairs
---
Biweekly Washington, D.C., Update for the Week Ending April 3, 2020
Written by: Hanh Le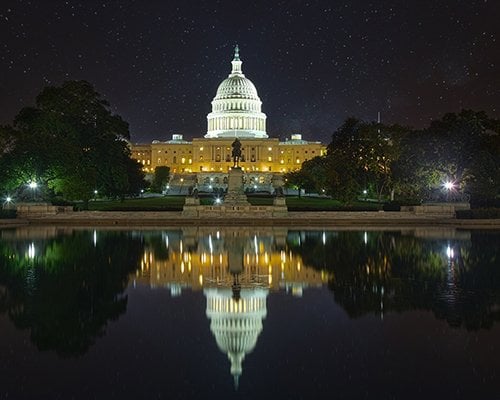 This week, the community in Washington, D.C., continued to adjust to new teleworking policies. Both chambers of Congress are out of session and will return at the end of April. Although there are no scheduled hearings or markups, staffers are nonetheless working hard to prepare FY2021 appropriations bills.
Upcoming Space Foundation Events:
RESCHEDULED Oct. 31 – Nov. 2, 36th Space Symposium, Colorado Springs, CO
This year's Space Symposium has been rescheduled for Sat., Oct. 31 through Tues., Nov. 2, 2020.
The Space Foundation is working with its partners, The Broadmoor, the City of Colorado Springs, its corporate members, and other key stakeholders, to welcome everyone back and celebrate one of the world's most inventive and impactful communities.
Given the date and timing changes for this year's Symposium program, attendees will find a revamped agenda compared to what was originally scheduled for this spring. Changes to the agenda will be posted online.
RELEASED: The Space Report || Quarter 1 – 2020 by The Space Foundation Research &
Analysis team
The Space Report Q1 reveals significant insights on workforce development, spacecraft activities, statistics, and analyses covering satellites for communication, Earth observation, and navigation. Some highlights from Q1 include:
Employment in core sectors of the U.S. space industry reached an eight-year high in 2019, but still had not returned to the high employment levels seen in 2008.
Global launch attempts in 2019 were the second highest in a decade, and 82 nations are operating in space today.
Research and investment activities hit record levels on the International Space Station's U.S. National Laboratory.
Space Foundation Resources:
The latest Space4U Podcast episode features Bill Gattle, the President of Space Systems for L3Harris Technologies, Space and Airborne Systems Segment, which covers an extensive portfolio of solutions in intelligence, surveillance, small satellites, electronic warfare, and avionics.
Online learning, lesson plans, and video lessons for students grades K–12 are available at the Discovery Center website.
Space Industry Updates:
Space Policy Updates:
Space Trivia:
On April 12, 1961, Soviet cosmonaut Yuri Gagarin became the first man in space when he spent 89 minutes in orbit aboard the Vostok 1 spacecraft.
---
Posted in Public Policy and Government Affairs