Space Foundation Press Releases
---
Shelli Brunswick Elected to Manufacturer's Edge Board of Directors
Written by: Space Foundation Editorial Team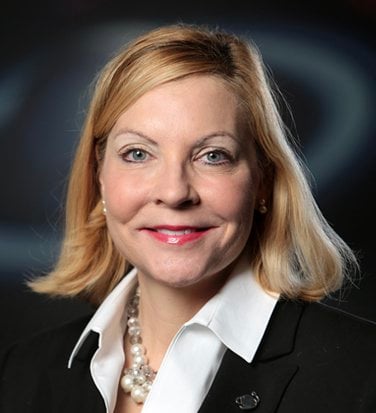 COLORADO SPRINGS, Colo. (April 16, 2020) — Manufacturer's Edge of Denver, Colo., has elected Space Foundation Chief Operating Officer Shelli Brunswick to its board of directors.
"The Space Foundation supports public-private partnerships that deliver comprehensive, proven solutions to U.S. manufacturers, fueling growth and advancing U.S. manufacturing. I am proud to have been selected to serve on this board, focusing on helping small and mid-sized manufacturers generate business results and thrive in today's technology-driven economy," said Brunswick.
"We are excited and deeply honored to have Ms. Brunswick join the Manufacturer's Edge board," said Tom Bugnitz, Manufacturer's Edge CEO. "Shelli brings to our board extensive experience in public service, aerospace, and government relations, and her leadership skills, innovative thinking, and energy will help drive our company into new markets and services. We look forward to her contributions as a board member and as an ambassador for manufacturing."
As Chief Operating Officer for the Space Foundation, Brunswick serves as a corporate officer, and is responsible for Space Foundation operations, facilities, processes, and personnel. Functions reporting to her include education, development/philanthropy, marketing and communication, operations, human resources and administration, customer service, information technology, facilities, maintenance, security, and assurance. She has primary responsibility for Space Foundation headquarters, the Space Foundation Discovery Center, operational management of the annual Space Symposium, and the Faga Forum on Space Intelligence. She also oversees government affairs activities in the Washington, D.C., office including relationships with government agencies, other space advocacy organizations and associations, and corporate interests.
Brunswick joined the Space Foundation in 2015 after a distinguished career as an acquisition and program management professional for the United States Air Force, and finished her career as a key leader within the Air Force Congressional Liaison office working both within the Pentagon and on Capitol Hill. She was Defense Acquisition Workforce Improvement Act (DAWIA) certified in Program Management Level III, Financial Manager Level II, and a certified Space Professional Level III by the United States Air Force Space Professional Functional Authority.
Brunswick was the Chair of Women in Aerospace (WIA) from 2016-2019. Currently, she serves as the Chair of the WIA Foundation. She is dedicated to increasing the leadership capabilities and visibility of women in the aerospace community. Also, she serves on the board of directors for Manufacturer's Edge, strengthening the competitiveness of manufacturers through coaching, training, and collaboration-focused industry programs, and by leveraging government, university, and economic development partnerships. She previously served on the Colorado Springs Chamber of Commerce Military Affairs Council and was a member of the National Defense Industrial Association (NDIA) Rocky Mountain Chapter.
Brunswick graduated summa cum laude from the University of Southern Colorado with a bachelor's degree in business administration, and earned a master's degree in business administration from the University of Phoenix. She is a Certified Project Management Professional through Project Management Institute, and was a Professor of Acquisition Management at Defense Acquisition University.
About Manufacturer's Edge
Manufacturer's Edge is the U.S. Department of Commerce Manufacturing Extension Partnership Center for the state of Colorado, part of a national network of 51 such Centers. Through onsite support and technical assistance, Manufacturer's Edge works to boost the competitiveness of Colorado manufacturers. The experienced engineers and business professionals at Manufacturer's Edge have skills in manufacturing, management, process improvements, and technology acceleration, and work closely with manufacturers to provide company assessments and customized solutions including hands-on facilitation and implementation. Learn more about Manufacturer's Edge at www.manufacturersedge.com/.
About the Space Foundation

Founded in 1983, the Space Foundation is a 501(c)(3) nonprofit and the world's premier organization to inspire, educate, connect, and advocate on behalf of the global space community. It is a leader in space awareness activities, educational programs, and major industry events, including the annual Space Symposium. Space Foundation headquarters is in Colorado Springs, Colo., USA, and has a public Discovery Center, including El Pomar Space Gallery, Northrop Grumman Science Center featuring Science On a Sphere®, and the Lockheed Martin Space Education Center. The Space Foundation has a Washington, D.C., office, as well as field representatives in Houston and on the Florida Space Coast. It publishes The Space Report: The Authoritative Guide to Global Space Activity, and through its Space Certification™ and Space Technology Hall of Fame® programs, recognizes space-based innovations that have been adapted to improve life on Earth. Visit both websites — www.SpaceFoundation.org and DiscoverSpace.org — and follow us on Facebook, Twitter, Instagram, LinkedIn, and YouTube.
# # #
Space Foundation contact:
Carol Hively, Director – Public Relations & Team Communications
[email protected]
---
Posted in Space Foundation Press Releases