Uncategorized
---
Volunteer Spotlight: Jan Carlson
Written by: Space Foundation Editorial Team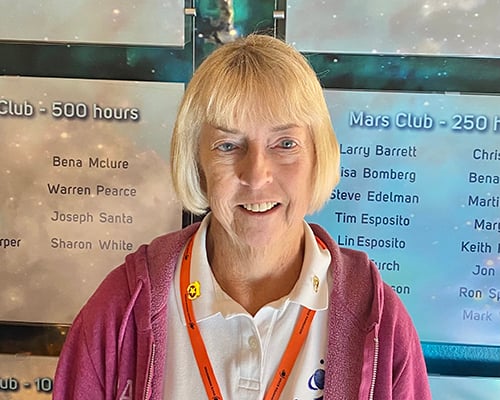 These Volunteer Spotlight articles profile some of the interesting and dedicated people who make Space Foundation programs possible. We could not do the work that we do without the generous and tireless support of our volunteers. This week, we are featuring Space Foundation Discovery Center volunteer Jan Carlson.
Professionally, Jan has 28 years of experience as a former support contractor for the government. Prior to those years working for the government, Jan enjoyed her various duties in administrative work. Her hobbies include knitting, reading, and going on vacation cruises. She also enjoys spending time with her new puppy and hiking with friends.
Carlson joined Space Foundation as a volunteer when the Discovery Center opened in 2012, and quickly became a consistent face and reliable source of support at the admissions desk where she has been welcoming visitors for the past eight years.
Jan recently expanded her front-of-house roles into supporting back-of-house operations as well, working with the entire Discovery Center team assisting with various projects for Space Foundation educators. Jan's willingness to support the Discovery Center's mission with her multitasking abilities, always-friendly smile, and eagerness to help are infinitely appreciated.
If you are interested in becoming a Space Foundation/Space Foundation Discovery Center volunteer, please reach out to Jennifer Walters, Volunteer Program Manager, at [email protected]
---
Posted in Uncategorized