Space Foundation News
---
Space Foundation Names Emisshield Inc. and Fisher Space Pen Company to 2021 Space Technology Hall of Fame
Written by: Space Foundation Editorial Team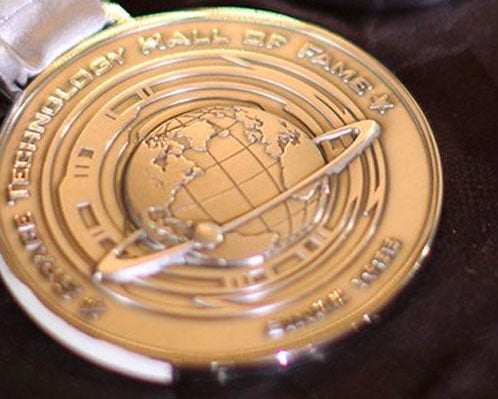 Space Community To Celebrate Space Innovation Inductees During 36th Space Symposium
Emisshield Inc. produces heat-protective coatings for commercial applications
Fisher Space Pens created originally for use in spaceflight, now sold worldwide
COLORADO SPRINGS, Colo. — May 3, 2021 — Space Foundation, a nonprofit advocate organization founded in 1983 for the global space ecosystem, today announced that its 36th Space Symposium will celebrate the induction into the Space Technology Hall of Fame® of two innovations developed for space that now improve life on Earth. Induction ceremonies will be part of the 36th Space Symposium, to be held Aug. 23-26, at The Broadmoor in Colorado Springs.
Founded in 1988, the Space Technology Hall of Fame recognizes the life-changing technologies emerging from global space programs, honors the scientists, engineers and innovators responsible, and communicates to the public the importance of these technologies as a return on investment in space exploration.
To date, more than 80 technologies have been inducted, and hundreds of organizations and individuals have been honored for adapting space technologies into commercial products that improve our quality of life on Earth. Inductees are chosen through a rigorous selection process administered by panels of judges that include preeminent scientists, researchers, astronauts, civil and commercial leaders, as well as individuals from across the space, technology and global business communities. A complete list of inductees can be viewed at www.spacefoundation.org/what-we-do/space-technology-hall-of-fame-2/inducted-technologies/
In recognizing the new honorees, Space Foundation CEO Tom Zelibor shared, "This year's inductees truly represent the spirit of the Space Technology Hall of Fame. Both produce products that had their beginnings in space exploration and that are now found in homes, businesses and communities around the world. Congratulations to these visionary leaders who had the foresight to develop and market these tools so we can utilize them here on Earth."
The 2021 Space Technology Hall of Fame Inductees
Protective Coating for Ceramic Materials
Individuals:
Organizations:
Emisshield Inc. manufactures and sells a wide variety of high-emissivity coatings for use in commercial and industrial applications. The technology behind the coating was invented at NASA's Ames Research Center in the early 1990s as a protective coating for use on spacecraft and was originally licensed to Emisshield Inc. in 1996. A license granting Emisshield exclusive use of the technology was later granted in 2001. The first commercial application it was developed for was to coat building materials for firewall applications. Since then, the company has created nearly 40 different formulations developed for a wide variety of applications — from clothing and race car parts to heavy industrial applications in iron and steel plants, refractories, ceramic fibers, and power generation machinery.
Space Pens
Individuals:
Paul Fisher, Founder, Fisher Space Pen Company (posthumously)
Organizations:
The Fisher Space Pen was initially developed for U.S. astronauts for use in spaceflight. The pen was conceived and designed by Paul Fisher in the mid-1960s, as he wanted to create a pen that specifically addressed the unique atmospheric challenges of microgravity. In November 1966, he secured his first patent for the "anti-gravity pen" and put his prototypes through a rigorous testing process to simulate the challenges of spaceflight. NASA placed an order for 400 pens in 1967, and they made their debut aboard the Apollo 7 mission in October 1968. According to the company, Fisher Space Pens have flown on every crewed spaceflight since, and the Space Pen is now sold worldwide for a wide range of applications.
The Judges
The distinguished panel of judges who selected the 2021 Space Technology Hall of Fame inductees comprised:
Todd Brost, Director, Special Programs, Numerica Corporation
Keith Cowing, President, SpaceRef Interactive, Inc.
Deepana Gandhi, Guidance, Navigation and Controls Engineer, Axiom Research Labs, TeamIndus
Meredith Garofalo, Certified Broadcast Meteorologist, WeatherNation
Heidi Hollowell, Retired Senior Director, Strategic Marketing and Communications, Space and Intelligence Systems, L3Harris Technologies
Angelique Johnson, CEO, MEMStim LLC
Iroka Chidinma Joy, Chief Engineer – Engineering and Space Systems Division, National Space Research and Development Agency
Tom Roeder, Senior Military Editor, The Gazette, Colorado Springs, Colorado
Luke Sauter Ph.D., Col, USAF, Permanent Professor and Head, Department of Astronautics, U.S. Air Force Academy, U.S. Air Force
About Space Technology Hall of Fame
Space Technology Hall of Fame honors individuals, organizations and companies that adapt technologies originally developed for space to improve the quality of life on Earth. Launched in 1988 by Space Foundation and operating under Symposium 365 division, the awards program also inspires future space innovators. Honorees are nominated by the space community and global space agency technology transfer offices, reviewed by a space and technology expert panel, and inducted into the Space Technology Hall of Fame in a special reception at Space Symposium. For more information or to nominate a technology, please visit www.spacetechhalloffame.org.
About Symposium 365
Symposium 365, a division of Space Foundation, is the premier source for media and events in the global space ecosystem, offering authoritative news and information and venues for networking and conducting business via the world-renowned Space Symposium, Symposium 365 Digital Platform and The Space Report.  Serving commercial, government and education sectors, Symposium 365 produces signature programming — live and online — for professionals, entrepreneurs, educators and students to learn, connect and conduct business 365 days a year. To learn more about Symposium 365, please visit www.symposium 365.org.
About Space Foundation
Space Foundation is a nonprofit advocate organization founded in 1983, offering a gateway to education, information and collaboration for space exploration and space-inspired industries that define the global space ecosystem. Driven by a partnership model, Space Foundation operates three divisions that unite the entire spectrum of stakeholders — business, government, education and local communities — through corporate membership, sponsorship, fundraising and grants.  Center for Innovation and Education is a lifelong learning platform. Symposium 365 is the premier source for media and events, including the world-renowned Space Symposium Space Symposium. Global Alliance facilitates collaboration around the world. Visit Space Foundation at www.SpaceFoundation.org, and follow us on Facebook, Twitter, Instagram, LinkedIn and YouTube.
###
All brand names and product names are trademarks or registered trademarks of their respective companies.
Tags: Space Foundation, Space Technology Hall of Fame, Emisshield Inc., Fisher Space Pen Company, space economy, space technology, space innovation, space ecosystem, space advocate, space commerce, space-inspired industries
Media Contacts:
Rich Cooper
Vice President, Strategic Communications & Outreach
Space Foundation
(202) 596-0714
[email protected]
Dottie O'Rourke
TECHMarket Communications
(650) 344-1620
[email protected]
---
Posted in Space Foundation News