Space Foundation News
---
Space Foundation Now Accepting Nominations for Space Technology Hall of Fame 2022 Induction Class
Written by: Space Foundation Editorial Team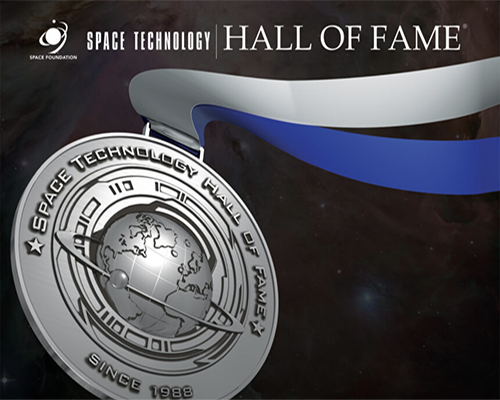 Technologies developed for space recognized for commercial/personal use on Earth
Nominations accepted via online form through Aug. 31, 2021
Inductions to be celebrated at 37th Space Symposium in April 2022
COLORADO SPRINGS, Colo. — May 12, 2021 — Space Foundation, a nonprofit advocate organization founded in 1983 for the space ecosystem, today announced it is seeking nominations for 2022 induction into the prestigious Space Technology Hall of Fame®. To nominate a technology, visit www.spacefoundation.org/nominate-a-technology.
The international program honors innovations by organizations and individuals who transform space technology into commercial products that improve life on Earth. It recognizes the life-changing and life-enhancing technologies emerging from the global space ecosystem; honors the scientists, engineers and innovators responsible; and communicates to the public the importance of these technologies as a return on investment in space exploration.
Nominations must be completed online by Aug. 31, 2021. Anyone may submit nominations of technologies developed anywhere in the world for use in space and then modified or adapted for use on Earth. Selected nominations will be officially inducted into Space Technology Hall of Fame during a special awards ceremony to be held during the 37th Space Symposium, April 4-7, 2022, in Colorado Springs.
Individuals and organizations may nominate up to three technologies including previously nominated technologies that have not been inducted. Supporting materials such as technical papers and product literature submitted for review will be assessed for completeness. Candidate technologies will then be submitted to an esteemed panel of judges and ranked according to Space Technology Hall of Fame selection criteria.
Selection Criteria for Space Technology Hall of Fame
Public Response: The public response elicited by the technology. Can the spin-off application be easily grasped and understood by the general public? Does it have a promotional value in highlighting the benefits of space exploration? Does it stimulate interest and pursuit of careers and/or grow the workforce pipeline in the space ecosystem?
Societal Benefit: The technology's positive impact on health, safety, efficiency, conservation or education and other societal advantages. Does the technology have important benefits for a significant segment of humanity or society as a whole? Does the technology promote further technological advancement and/or better lives on Earth?
Economic Benefit: The economic activity resulting from the technology. Has the technology been the basis of, or a significant contributor to, a successfully selling product(s) and/or generated a new growing company(s)? Has it helped cultivate a vibrant and economically strong space ecosystem?
Leadership Investment: The significance of the development efforts. Was the initial development effort an example of an inclusive, innovative and sustainable workforce, and/or did the development effort provide entrepreneurial opportunities?
Longevity: The technology's commercial life. How long has the technology and/or its application been successfully in use? Has it effectively evolved over time and become more refined and distributed in its use and applications?
Each nomination is reviewed for completeness, ranked by a panel of annually appointed judges who rate according to selection criteria, and then assessed by technical experts.
Inductees to Space Technology Hall of Fame
The 2021 Space Technology Hall of Fame inductees include:
They will be honored during ceremonies at the 36th Space Symposium held at The Broadmoor in Colorado Springs, occurring Aug. 23-26, 2021.
Other inducted technologies have included energy-saving devices, health improvement tools, satellite and telecommunication technologies, and practical commercial items. All inducted technologies may be viewed at www.spacefoundation.org/what-we-do/space-technology-hall-of-fame-2/inducted-technologies/. For more information or questions regarding the nomination process, please contact [email protected].
About Space Technology Hall of Fame
Space Technology Hall of Fame honors individuals, organizations and companies that adapt technologies originally developed for space to improve the quality of life on Earth. Launched in 1988 by Space Foundation and operating under Symposium 365 division, the awards program also inspires future space innovators. Honorees are nominated by the space community and global space agency technology transfer offices, reviewed by a space and technology expert panel, and inducted into the Space Technology Hall of Fame in a special reception at Space Symposium. For more information or to nominate a technology, please visit www.spacetechhalloffame.org.
About Symposium 365
Symposium 365, a division of Space Foundation, is the premier source for media and events in the global space ecosystem, offering authoritative news and information and venues for networking and conducting business via the world-renowned Space Symposium, The Space Report and Symposium 365 Digital Platform. Serving commercial, government and education sectors, Symposium 365 produces signature programming — live and online — for professionals, entrepreneurs, educators and students to learn, connect and conduct business 365 days a year. To learn more about Symposium 365, please visit www.symposium365.org.
About Space Foundation
Space Foundation is a nonprofit advocate organization founded in 1983, offering a gateway to education, information and collaboration for space exploration and space-inspired industries that define the global space ecosystem. Driven by a partnership model, Space Foundation operates three divisions that unite the entire spectrum of stakeholders — business, government, education and local communities — through corporate membership, sponsorship, fundraising and grants: Center for Innovation and Education is a lifelong learning platform. Symposium 365 is the premier source for media and events, including the world-renowned Space Symposium. Global Alliance facilitates collaboration around the world. Visit Space Foundation at www.SpaceFoundation.org, and follow us on Facebook, Twitter, Instagram, LinkedIn and YouTube.
###
All brand names and product names are trademarks or registered trademarks of their respective companies.
Tags: Space Foundation, Space Technology Hall of Fame, Symposium 365, space economy, space technology, space innovation, space ecosystem, space advocate, space commerce, space-inspired industries
Media Contacts:
Rich Cooper
Vice President, Strategic Communications & Outreach
Space Foundation
(202) 596-0714
[email protected]
Dottie O'Rourke
TECHMarket Communications
(650) 344-1620
[email protected]
---
Posted in Space Foundation News