Space Foundation Global Alliance
Webinar and Speaker Series
Supporting Entrepreneurship Around the Globe Through a Smart Finance Network: Shelli Brunswick Interview with Dr Kyla Tennin
Category: Space Foundation Global Alliance
How do you know if entrepreneurship is right for you?  How do you build your network when funding your business is not enough?  Without a formal education in business, mentoring, training and a supportive network is also required. In this episode, join Shelli Brunswick, COO of Space Foundation as she interviews Dr. Kyla Tennin, President, Board Chair, and Global CEO of Lady Mirage Global, Inc., who works to remedy these issues for entrepreneurs around the globe who may lack access to these fundamentals. 
Dr. Tennin is an industry pioneer, practitioner, and DM in Management and Organizational Leadership. She focuses on Change Management and mixed methods of empirical research striving for continuous improvement, business transformation, and recovery during and after internal/external crisis to nations, institutions, and individual's lives. She is a leader in various roles at investment forums where she helps businesses start-up, advance, and/or scale to improve economic development, promote social justice, and create jobs in various nations. At the World Business Angels Investment Forum (WBAF), affiliated partner of the G20 Global Partnership for Financial Inclusion (GPFI), this vision is to promote social justice, create jobs, allow financial inclusion, and develop innovative financial instruments for businesses helping them to scale. Dr. Tennin is also affiliated with the International Monetary Fund, World Bank Group, and Parliamentary Network to enhance economies and various forms of businesses. As a result, she frequently writes, speaks, and consults in nearly 60 countries on topics of corporate and board governance, risk management, institutional voids and institutional forces in emerging economies.
Presented by: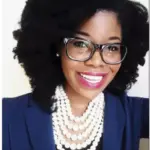 Dr. Kyla Tennin
President, Board Chair, and Global CEO of Lady Mirage Global, Inc.