Space Foundation News
---
Space Foundation Honored by Shades of Blue
Written by: Space Foundation Editorial Team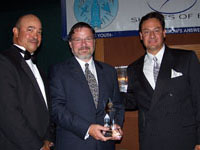 COLORADO SPRINGS, Colo. (Sep. 11, 2007) — Shades of Blue, an educational organization that helps to enable and prepare students for careers in aviation and aerospace, presented the Space Foundation with a Corporate Leadership Award for its work in education. The Shades of Blue Fifth Annual Awards Dinner and Fundraiser featured master of ceremonies, Dave Aguilera, meteorologist and reporter for CBS Channel 4, Denver, Colo.; distinguished guests including former astronauts Maj. Gen. Charles F. Bolden, Jr., USMC (Retired), Col. Guion S. Bluford, Jr., USAF (Retired); and the first African-American astronaut trainee, Ed Dwight, Jr. 
In addition to the Space Foundation, two other organizations and three individuals were recognized for their contributions and accomplishments. Jeppesen and Raytheon Company also received Corporate Leadership Awards. The Ed Dwight, Jr. Award was presented jointly to Lt. Victor Glover, USN and Barrington Irving for their outstanding accomplishments, respectively, as a naval aviator and as the youngest pilot to fly solo around the world. The teacher of the year honor was presented to Alan Godman, an educator at Legacy High School in Broomfield, Colo.
The Space Foundation has worked with Shades of Blue on a number of projects including providing instruction on introductory theory to microgravity to middle and high school students at their "Ace Camp." More information about Shades of Blue can be found at www.ourshadesofblue.org.
Pictured from left are Willie Daniels, II, Shades of Blue Chief Executive Officer, Elliot Pulham, Space Foundation President and Chief Executive Officer, and Dave Aguilera, master of ceremonies.
---
Posted in Space Foundation News