Space Foundation News
---
Next Private Space Explorer Addresses Space Foundation Correspondents Group
Written by: developer
COLORADO SPRINGS, Colo. (Dec. 12, 2007) — The Space Foundation's Washington, D.C., office hosted another successful Space Foundation Correspondents Group on December 11, 2007. Richard Garriott, a well-known video game designer who is scheduled to be the next private citizen to travel to the International Space Station (ISS), and Eric Anderson, president and chief executive officer of Space Adventures, the space tourism company that will send Garriott to the ISS, were the featured speakers. Garriott is also the son of former astronaut Owen Garriott.
Correspondents from national, international, wire, and trade publications engaged in a lively and wide-ranging conversation with Garriott and Anderson. Topics of discussion included the experiments Garriott will conduct while on board the ISS; the privatization of science and technology research in space; the future of commercial space activities; the training regimen Garriott must undergo to prepare for his mission; and the Garriott's motivation as an astronaut's son for traveling to space as a private citizen.
The SFCG event was the third in a regular series of gatherings for Washington, D.C., based space, defense, science and technology, business, and international journalists to engage in dialogue with leaders from across the space industry. The first two SFCG meetings were held in late September with NASA Deputy Administrator Shana Dale and in November with National Security Space Office Director Joe Rouge. In keeping with the Space Foundation's mission and focus on all aspects of space, SFCG events will feature representatives from across the space communities – civil, commercial, and national security.
Pictured: Richard Garriott, the next private citizen scheduled to travel to the ISS, and Eric Anderson, president and chief executive officer, Space Adventures.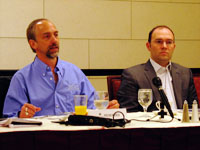 ---
Posted in Space Foundation News