Space Foundation News
---
Space Foundation Index Now Updated Daily
Written by: Space Foundation Editorial Team
COLORADO SPRINGS, Colo. (Dec. 4, 2007) — The Space Foundation recently unveiled a daily, Web-based version of the Space Foundation Index. Updated each business day, shortly after the markets close, the online Space Foundation Index displays the performance of the index companies versus the NASDAQ and S&P 500 from its inception as well as in daily, weekly, monthly, quarterly, and yearly intervals.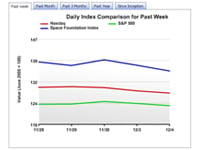 The Space Foundation Index is a weighted index that tracks the market performance of 31 public companies that derive a significant portion of their revenue from space-related assets and activities. Since its inception through November 30, 2007, the Space Foundation Index has increased by more than 39 percent, significantly outpacing both the NASDAQ and S&P 500 indices, which grew 29 percent and 23 percent, respectively. The index is prepared for the Space Foundation by ISDR Consulting, LLC.
Previously updated annually through The Space Report, the Space Foundation Index can now be used as an instrument to track the daily market performance of a selection of public companies representing the breadth and depth of the space industry. The Space Foundation Index can serve as a practical tool for individuals and businesses by providing tangible data on both the short and long term growth of this $220 billion industry.
---
Posted in Space Foundation News