Report from Washington, D.C.
---
The Report from Washington D.C.
Written by: developer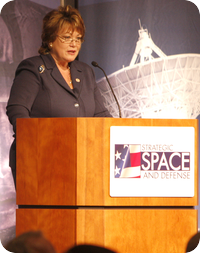 The recently concluded Strategic Space and Defense 2008 conference included significant congressional participation. The Honorable Ben Nelson, United States Senate, of Nebraska, gave the keynote presentation at The Strategic Space and Defense Dinner on Tuesday, Oct. 7 and The Honorable Ellen Tauscher, United States House of Representatives, made featured remarks at the Congressional Luncheon on Wednesday, Oct. 8.  Both highlighted the vital role space assets play in our national security and the benefits space capabilities provide to the war fighter.  In addition, both Nelson and Tauscher touched on space issues that Congress has increasingly made a priority, including space situational awareness and space protection.
This article is part of Space Watch: October 2008 (Volume: 7, Issue: 10).
---
Posted in Report from Washington, D.C.