Spotlight
---
Space Foundation Unveils New Web Site for 25th National Space Symposium
Written by: developer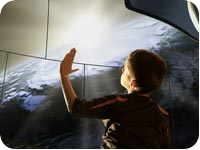 As we count down for launch of The Next Space Age at the 25th National Space Symposium, the Space Foundation has unveiled a new and improved Web site for the event's silver anniversary. The comprehensive site at www.NationalSpaceSymposium.org serves as a user-friendly portal for all event-related information, including smoother online registration, exhibit list and map, speaker profiles, program agenda, and much more.
Save $425 on Super Early Bird registration now through Jan. 16.
Only a few exhibit spaces remain in the expansive Boeing Exhibit Center. E-mail
[email protected]
for more information.
Co-sponsors for the 25th National Space Symposium include ATK, Ball Aerospace & Technologies Corp., Boeing, Cisco Systems, Inc., General Dynamics, Infinite Links, International Space University, ITT, Lockheed Martin, Northrop Grumman, Pratt & Whitney Rocketdyne, Raytheon, SEAKR Engineering, Inc., Stellar Solutions, and United Space Alliance. Media partners are Aviation Week and Space News.
This article is part of Space Watch: January 2009 (Volume: 8, Issue: 1).
---
Posted in Spotlight