Spotlight
---
Top 5 Reasons to Attend the 25th National Space Symposium: Networking
Written by: developer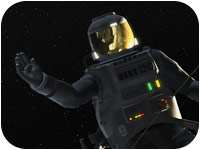 Reason # 1: "There is so much information given here . . . so many great people you can meet . . . if you didn't come to the Symposium you would be behind."
Let's face it, oftentimes the greatest impact of an industry conference lies not within the formal sessions of the agenda, but within the opportunity to meet and talk with industry leaders, to catch up with current and potential customers and suppliers, or to have the time to germinate ideas or seal deals too long in the making. In addition to a superlative agenda featuring many of the world's foremost space experts, the 25th National Space Symposium also offers ample opportunity to network.
Starting with the opening night reception and late-night post-fireworks reception, on through to the capstone Space Technology Hall of Fame Dinner, the 25th National Space Symposium offers formal opportunities at receptions, luncheons and dinners. Informal opportunities abound in the extensive Boeing Exhibit Centers and across the luxurious and very business-friendly Broadmoor facilities. Plus, the Symposium offers the most important ingredient to successful and productive networking: everyone who is anyone in the space industry will be there. Just listen to some of our former attendees:
"You can get more things done in a mere couple days than you would otherwise in a few months or more."
"This is where all the action is."
Online registration and more information, including an updated program agenda, confirmed speaker list, and exhibitor list, are available at www.NationalSpaceSymposium.org.
Co-sponsors for various networking events include:
• Exhibit Center – Boeing
• Opening Ceremony – Lockheed Martin
• Opening Night Reception – United Space Alliance
• Opening Night Fireworks and Late-Night Reception – Ball Aerospace & Technologies Corp.
• Corporate Partnership Cocktail Reception – Intelsat
• Corporate Partnership Dinner – Northrop Grumman
• Congressional Luncheon – Ball Aerospace & Technologies Corp.
• General James E. Hill Lifetime Space Achievement Luncheon – Raytheon
• Tuesday Morning Coffee – Stellar Solutions
• Tuesday Mid-Morning Break – Hitachi Consulting
• Wednesday Morning Coffee – Infinite Links
• Space Technology Hall of Fame Reception – Integral Systems
This article is part of Space Watch: March 2009 (Volume: 8, Issue: 3).
---
Posted in Spotlight