Spotlight
---
25th National Space Symposium a Rousing Success
Written by: developer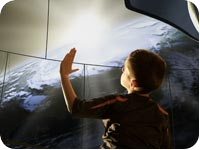 The 25th National Space Symposium, held March 30 – April 2 at The Broadmoor Hotel in Colorado Springs, was a success by every conceivable measure: record-breaking attendance of almost 8,000; the largest and most diverse exhibits ever; meaty and intriguing programs; inspiring and informative speakers; innovative educational programs; and highly productive networking.
From the magnificent performance of the Colorado Springs Philharmonic and the Colorado Springs Chorale at the Opening Ceremony to the side-splitting and thought-provoking antics of Bill Nye the Science Guy® at the Space Technology Hall of Fame Dinner, the 25th National Space Symposium drove home the excitement and promise of The Next Space Age – in a big way.
Through sunshine, snow showers, spotlights and fireworks, the 25th National Space Symposium delivered content, excitement, opportunity and inspiration. This issue of Space Watch is filled with facts and excerpts from the event. For more information, go to www.NationalSpaceSymposium.org.
This article is part of Space Watch: April 2009 (Volume: 8, Issue: 4).
---
Posted in Spotlight