The View From Here
---
The View from Here:
Written by: developer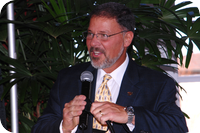 With apologies to our readers, Space Watch is late to the launch pad this month, owing to the timing of the 25th National Space Symposium and the demands that mission success and customer support make upon our Space Foundation team. I want to thank all our customers, from all over the world, who came together in Colorado Springs for what I believe history will record as one of the most important, seminal gatherings of the industry in the quarter-century of National Space Symposia.
Focused on The Next Space Age, the Symposium addressed a wider and deeper set of issues, with a more diverse and powerful line-up of speakers, than ever before. "Content rich" barely begins to do justice to the gathering of nearly 8,000 attendees, speakers, students, educators, media, exhibitors, guests and support staff who participated. With so many topics being addressed in both on-agenda and off-agenda dialogue, it is difficult to pick a single issue that dominated the event.
But the common thread was readily apparent. Even in space, we're living in an increasingly interdependent world.
That may seem like a blinding flash of the obvious when cast in the light of larger events. We all know that we're living in a world where a bank failure in London can cause instantaneous repercussions in New York, Madrid, Sydney, Tokyo or Beijing. Pensions invested by a company in Seattle are managed on Wall Street by a U.S. subsidiary of a European private bank that is in turn partially owned by stockholders in China, South Africa, Saudi Arabia. The auto mechanic in Boise owes his livelihood to U.S. customers who've purchased an automobile co-manufactured by U.S. and Japanese interests, carrying a Japanese brand and content manufactured in Canada, Japan, the U.S., Europe and China.
The space industry, born as it was of a Cold War rivalry, is seldom seen in this light. But as our The Space Report: 2009 reveals, this $257 billion industry has become an interdependent, international endeavor that is nearly 70 percent commercial. While government space programs and nationalistic rivalries still play a crucial role in shaping the future of our industry, increasingly the exploration, development and utilization of space is driven by global commerce. Space has become the invisible, yet, crucial infrastructure of our time.
Operating interdependently with customers and suppliers that span the globe and embrace the global economy, the commercial sector of the space industry continues to grow rapidly. Still, there are artificial barriers to economic growth for our industry, principally in the form of antiquated policies and regulations – the most glaring impediment being the International Traffic in Arms Regulations (ITAR). And government space enterprises are all but prohibited from reaping the benefits of operating interdependently. China, Russia, India, Japan and the U.S. have all declared their intent to establish a human presence on the moon. How much sooner could we get there if we could collaborate? How much more cost-effective and how much better could we distribute the risk if we did this together? And how would we be compelled to understand each other more, and threaten each other less, if we approached the moon the way we approached Antarctica – interdependently?
The participation at the 25th National Space Symposium of a high-ranking delegation from China's manned space flight program served to punctuate the mutual respect we in the space industry have for each other's capabilities and achievements. The positive potential emerging from several days' worth of meetings and dialogue among the Chinese delegation and Symposium attendees from all over the world was galvanizing – and worthy of an entire column dedicated to just the subject of collaboration with China and what that might look like, how it might benefit the entire world.
Yet other, more subtle interdependencies were also at play.
One of these is the clear interdependence among U.S. civil, commercial, and national security space programs. An illness in any one sector clearly affects the others, and we have more than a little at risk right now with NASA running rudderless and the Department of Defense gutting much-needed programs to meet budget pressures. The commercial sector is to be applauded for offering many innovative ideas to help the DoD maintain critical capabilities. For its part, the DoD must become more willing to work interdependently with the commercial sector as it faces a future in which it is likely that fewer and fewer exquisite and expensive military systems will be funded. Again, interdependence with the commercial sector, and interdependence with our friends and allies who also have space systems, is likely where solutions will be found.
Another unique interdependence that struck me is the generational interdependence we are surrounded by at all levels of our space industry and in all sectors. There was a larger-than-ever participation in the Symposium this year by young space professionals. These people are making contributions today, and are the leaders of tomorrow. They very plainly view the world differently than our more senior leaders and executives. They think differently, collaborate naturally, and communicate at light speed using technologies and social networking platforms that are befuddling to some of the more senior members of our community. Not insignificantly the way they work was never envisioned by those who long-ago crafted the acquisition and information exchange policies that govern (or, perhaps, shackle?) our industry today. Boomers, GenX, GenY, Millenials . . . we all need each other and we all need to work together if we, as an industry, are to continue to succeed and to navigate through the these turbulent times.
The View From Here is that The Next Space Age will be one of greater and greater collaboration and interdependence. If we thoughtfully and deliberately manage this dimension of this greatest of all human adventures, The Next Space Age could well be the brightest we've yet seen.
This article is part of Space Watch: April 2009 (Volume: 8, Issue: 4).
---
Posted in The View From Here