Spotlight
---
Why Attend the 26th National Space Symposium?
Written by: developer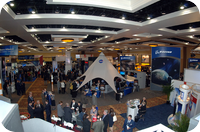 In addition to outstanding speakers, feedback from attendees of last year's 25th National Space Symposium cited a variety of great reasons for attending:
"It's exceptionally well-organized and run, offers the best opportunity of the year for contact with senior government officials … (that's) of greatest value to us, that's what really justifies our investment in the space symposium."
"I invariably have meetings with people who would be too difficult to get in touch with any other time."
"Our biggest reason for attending is the amount of actual business that gets conducted there…"
"The opportunity to interact at a high level with customer organizations."
"Cutting-edge teacher exhibits…"
"Hearing from top speakers, line-up of incredible people…"
"Talking to very knowledgeable exhibitors."
The three-day agenda covers all the critical facets of the space industry – presented by the people who are making the decisions, running the companies, establishing the policies, and setting the course for the future. Watch for program updates and registration information at http://www.nationalspacesymposium.org/.
And, take it from one previous attendee, "Anyone who has anything to do with space should have this as number-one priority."
This article is part of Space Watch: November 2009 (Volume: 8, Issue: 11).
---
Posted in Spotlight