Space Foundation Press Releases
---
Analytical Graphics Funds $3 Million Missions Simulator for Space Foundation Discovery Institute
Written by: developer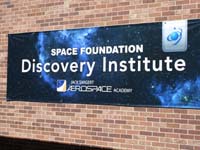 COLORADO SPRINGS, Colo. (Jan. 13, 2010) — A generous donation from Analytical Graphics, Inc. (AGI) has launched a new space education lab in Colorado Springs – the AGI Space Missions Simulator at the Space Foundation Discovery Institute.
AGI, headquartered in Exton, Pa., donated software, licensing, and new computer equipment valued at more than $3 million to establish the education lab, which will simulate launch, flight, and landing of a variety of space missions. The lab will run AGI's STK, Orbit Determination Tool Kit (ODTK) and STK/Astrogator software, which will allow students and teachers to learn about satellite orbits, design their own satellite orbits, track their satellites, and, eventually, help plan a simulated return mission from Mars. The lab will also be the mission control center for future labs and mission scenarios that will take place in adjacent labs at the Space Foundation Discovery Institute.
The Space Foundation Discovery Institute opened last summer on the campus of the Jack Swigert Aerospace Academy in Colorado Springs. It provides space- and aerospace-themed professional development, training, and support for teachers and students from around the world and serves as the base location for the Space Foundation's education programs.
This generous donation from AGI has transformed a dream into a reality," said Iain Probert, Space Foundation vice president of education. "Teachers and students can now experience first-hand the technological problem-solving involved in space travel. This learning has applications in all aspects of our modern world and helps prepare a new generation for the demands of our future existence."
"AGI is honored to be part of this exciting new opportunity to educate the next generation of space enthusiasts," said AGI CEO Paul Graziani. "We applaud the Space Foundation for the important work it has done over the years, and look forward to the success of the new space education lab."
Space Foundation education programs and curriculum focus on science, technology, engineering, and mathematics (STEM), helping to address serious gaps in U.S. science and math education and proficiency.
The Space Foundation's nationally recognized standards-based education programs use space themes and principles to build proficiency in and enthusiasm for STEM subjects among teachers, students, parents and communities. The goal is to strengthen STEM skills so that today's students can go on to become scientists, engineers, mathematicians, teachers, and supporters of space exploration.
In addition, the Space Foundation Discovery Institute provides targeted professional development, onsite teacher support, and student programs for Jack Swigert Aerospace Academy, a Colorado Springs public middle school that opened August 2009 with an aerospace-based curriculum. The Academy, a joint project between Colorado Springs School District 11 and the Space Foundation, is named in honor of Colorado native and Apollo astronaut John L. "Jack" Swigert.
About AGI
AGI develops physics-based commercial off-the-shelf software that computes and depicts the relationships among moving objects over time. Space, defense, and intelligence professionals use AGI products to design, model, and operate Earth- and space-based systems. The software can be purchased as ready-to-use applications or development tools. For more information, visit www.agi.com.
AGI's Educational Alliance Program provides eligible academic institutions free licensing and certification testing of STK software for instructional purposes. These resources give students hands-on experience with the same industry-leading software used by tens of thousands of aerospace, defense, and intelligence professionals worldwide.
The program currently partners with approximately 200 academic institutions and recently announced a competition offering full-time college students $1,000 grants in five different categories, as well as an opportunity to present their STK software solution during the AGI 2010 Users' Conference Tour. Applications are being accepted now through March 1, 2010.
About the Space Foundation
The Space Foundation is an international, nonprofit organization and the foremost advocate for all sectors of the space industry – civil, commercial, military and intelligence. Founded in 1983, the Space Foundation is a leader in space awareness activities, educational programs that bring space into the classroom, and major industry events, all in support of its mission "to advance space-related endeavors to inspire, enable, and propel humanity." An expert in all aspects of the global space industry, the Space Foundation publishes The Space Report: The Authoritative Guide to Global Space Activity and provides three indices that track daily performance of the space industry. Through its Space Certification and Space Technology Hall of Fame programs, the Space Foundation recognizes space-based technologies and innovations that have been adapted to improve life on Earth. Headquartered in Colorado Springs, the Space Foundation conducts research and analysis and government affairs activities from its Washington, D.C., office and has field representatives in Houston, Texas, and Cape Canaveral, Fla. For more information, visit www.SpaceFoundation.org. Follow us on Twitter, Facebook, and LinkedIn, and read about the latest space news and Space Foundation activities in Space Watch.
 
---
Posted in Space Foundation Press Releases