Space Foundation News
---
Biggest-Ever National Space Symposium is this Month
Written by: developer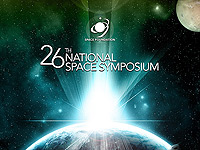 COLORADO SPRINGS, Colo. (Apr. 3, 2010) — More than 8,000 people will converge on The Broadmoor Hotel in Colorado Springs this month for the biggest, boldest, and best National Space Symposium in the 26 years the event has been held.
The are many reasons you should be there including multiple opportunities to meet and network with current and potential clients, customers, or business partners; an information-packed agenda; top-level speakers; mind-boggling exhibits; Inspiring awards; a magnificent venue – the historic The Broadmoor Hotel; fabulous entertainment – Barrage at the Opening Ceremony; actor Leonard Nimoy at the Space Technology Hall of Fame® Dinner; an opportunity to be part of the premier gathering of the global space community
New this year are:
The wildly popular Cyber 1.0 event, which is now sold out
Four days of New Generation Initiatives for up-and-coming young space professionals
A closing Reception in Celebration of New Generation Initiatives for all attendees on Thursday evening
To see all the details, click here.
It's not too late to register – just click here, sign up, and get yourself out to Colorado Springs.
---
Posted in Space Foundation News