Space Foundation Press Releases
---
Next Week's 26th National Space Symposium Offers Surprises
Written by: developer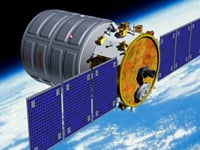 COLORADO SPRINGS, Colo. (Apr. 5, 2010) — The 26th National Space Symposium kicks off next Monday at The Broadmoor Hotel in Colorado Springs, bringing with it some special surprises in addition to the extraordinary networking opportunities, the almost 100 top-level speakers, and the wide range of topical space issues on the agenda.
CygnusTM Spacecraft
The biggest surprise – in terms of sheer size – is a full-scale replica of Orbital's CygnusTM advanced maneuvering spacecraft, which will be on display outside The Broadmoor's Lakeside Terrace, overlooking Cheyenne Lake.
 Being developed to carry crew supplies, spares, and scientific experiments to the International Space Station (ISS) for NASA, CygnusTM consists of a common service module and a pressurized cargo module. Orbital's contract with NASA authorizes eight missions between 2011 and 2015, carrying approximately 20,000 kg of cargo to the ISS.
 
The mock-up, which measures 34 feet from solar array tip-to-tip, over 10 feet tall, and nearly 30 feet long, is just one example of burgeoning commercial spacecraft development, which will be one of the major topics at this year's Symposium. To learn more about CygnusTM, click here.
Dragon Capsule
Another commercial spacecraft example, the Dragon Capsule from SpaceX, will once again be on display inside the massive exhibit center.
Dragon is a free-flying, reusable spacecraft being developed to transport pressurized cargo, unpressurized cargo, and/or crew members to, and from, low Earth orbit. In December 2008, NASA announced the selection of SpaceX's Falcon 9 launch vehicle and the Dragon spacecraft to resupply the ISS after the Space Shuttle retires. The $1.6 billion contract represents a minimum of 12 flights, with an option to order additional missions for a cumulative total contract value of up to $3.1 billion.
Dragon, operating under the name "DragonLab," also serves as a platform for fully commercial in-space technology demonstrations and scientific instrument testing.
Fireworks and Stargazing
Taking advantage of the extraordinary mountainside setting and the clear Colorado skies, the 26th National Space Symposium will once again feature Opening Night fireworks. This year's display, which is sponsored by Orbital Sciences Corporation, will be Monday evening, April 12. Then on Wednesday, April 14, the Colorado Springs Astronomical Society will provide telescopes and volunteers, so that Symposium attendees can stargaze.
About the 26th National Space Symposium
These displays and activities complement the workshops, forums, panels, and presentations that characterize the 26th National Space Symposium, which is the premier gathering of the global space community. The Symposium covers all aspects of space, including main agenda events, special dinners and luncheons, engaging programs for teachers and students, the extensive SES WORLD SKIES, USG Exhibit Center, and greatly expanded programs for young, up-and-coming "new generation" space professionals.
The 26th National Space Symposium also includes presentation of prestigious awards including  the General James E. Hill Lifetime Space Achievement Award, which is being presented to legendary astronaut Capt. John Young, USN (Retired); the Alan Shepard Technology in Education Award, which is being presented to teacher Allen V. Robnett; the Douglas S. Morrow Public Outreach Award, which is being presented to actor Leonard Nimoy; the John L. "Jack" Swigert, Jr., Award for Space Exploration, which is being presented the Lunar CRater Observation and Sensing Satellite (LCROSS) Mission Team; and the Space Achievement Award, which is going to the Hubble Space Telescope Repair Mission Team. Plus, during Thursday evening's capstone event, Eagle Eyes Optical Technology and Digital Fly-By-Wire Technology will be inducted into the Space Technology Hall of Fame®.
More information, including agenda, speakers, and exhibitors, are available at www.NationalSpaceSymposium.org. Online registration will be available through 3:00 p.m. MDT on Friday, April 9
26th National Space Symposium Sponsors
Sponsors of the 26th National Space Symposium include Analytical Graphics, Inc., ARES Corporation, Astrium North America, Astrotech Space Operations, ATK, AVIATION WEEK, Ball Aerospace & Technologies Corp., Boeing, Booz Allen Hamilton, Cisco Systems, Inc., Cobham, InSpace21, Defense Systems, General Dynamics, GMV, IBM, InSpace21, Intelsat General Corporation, International Space University, Lockheed Martin, Maui Economic Development Board, Northrop Grumman, Orbital Sciences Corporation, Pratt & Whitney Rocketdyne, Raytheon, SAIC, SES WORLD SKIES, USG, Space Generation Advisory Council, Space News, Space Systems/Loral, SpaceX, Stellar Solutions, United Launch Alliance, and United Space Alliance.

Additional sponsorship opportunities are available; interested companies should contact [email protected].
About Orbital
Orbital develops and manufactures small- and medium-class rockets and space systems for commercial, military and civil government customers. The company's primary products are satellites and launch vehicles, including low-Earth orbit, geosynchronous-Earth orbit, and planetary exploration spacecraft for communications, remote sensing, scientific, and defense missions; human-rated space systems for Earth-orbit, lunar, and other missions; ground- and air-launched rockets that deliver satellites into orbit; and missile defense systems that are used as interceptor and target vehicles. Orbital also provides satellite subsystems and space-related technical services to U.S. Government agencies and laboratories. The company has about 3,600 employees. Headquartered in Dulles, Va., Orbital is a Space Foundation Contributing Member. More information about Orbital can be found at www.orbital.com.
About Space X
SpaceX, a Space Foundation Partner, is a private company that is developing a family of launch vehicles and spacecraft intended to increase the reliability and reduce the cost of both manned and unmanned space transportation, ultimately by a factor of ten. With the Falcon 1 and Falcon 9 vehicles, SpaceX offers highly reliable/cost-efficient launch capabilities for spacecraft insertion into any orbital altitude and inclination. Starting in 2010, SpaceX's Dragon spacecraft will provide Earth-to-LEO transport of pressurized and unpressurized cargo, including resupply to the International Space Station. The SpaceX team now numbers over 900, with corporate headquarters in Hawthorne, California. For more information, go to www.spacex.com.
About the Colorado Springs Astronomical Society
The Colorado Springs Astronomical Society (CSAS) is made up of amateur astronomers who volunteer their time, energy, and equipment to help the community enjoy the night sky. The members bring telescopes to public star parties; get together to look at the stars; mentor new people about equipment and astronomy; volunteer to show children or other special groups what is in the sky; and participate in the outreach programs of the Night Sky Network.
About the Space Foundation
The Space Foundation is an international, nonprofit organization and the foremost advocate for all sectors of the space industry – civil, commercial, military and intelligence. Founded in 1983, the Space Foundation is a leader in space awareness activities, educational programs that bring space into the classroom, and major industry events, all in support of its mission "to advance space-related endeavors to inspire, enable, and propel humanity." An expert in all aspects of the global space industry, the Space Foundation publishes The Space Report: The Authoritative Guide to Global Space Activity and provides three indices that track daily performance of the space industry. Through its Space Certification and Space Technology Hall of Fame®  programs, the Space Foundation recognizes space-based technologies and innovations that have been adapted to improve life on Earth. Headquartered in Colorado Springs, the Space Foundation conducts research and analysis and government affairs activities from its Washington, D.C., office and has field representatives in Houston, Texas, and Cape Canaveral, Fla. For more information, visit www.SpaceFoundation.org. Follow us on Twitter, Facebook, and LinkedIn, and read about the latest space news and Space Foundation activities in Space Watch
---
Posted in Space Foundation Press Releases