Spotlight
---
Videos Capture Symposium Highlights
Written by: developer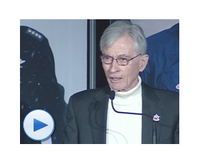 This year's 26th National Space Symposium featured historic moments, such as the speech by legendary astronaut Captain John W. Young, USN (Retired), accepting The General James E. Hill Lifetime Space Achievement Award. For the benefit of those who weren't able to see Young's speech in person, and for those who would like to see it again, the Space Foundation has posted videos of the Symposium's most memorable moments online.
The videos include an overview of space highlights from 2009, the Hubble Space Telescope Repair Mission Team receiving the Space Achievement Award, the Lunar Crater Observation and Sensing Satellite (LCROSS) mission team accepting the John L. "Jack" Swigert Award for Space Exploration, the Alan Shepard Technology in Education Award, and actor/director Leonard Nimoy's comments at the Space Technology Hall of Fame® Dinner. 
To go to the video page, click here. 
 Pictured: See video of John Young's speech at the 26th National Space Symposium. 
This article is part of Space Watch: June 2010 (Volume: 9, Issue: 6).
---
Posted in Spotlight