Spotlight
---
Sheridan Speaks on Air Force Space Acquisition
Written by: developer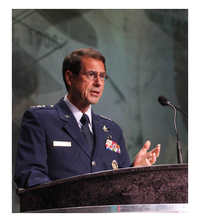 This year's 26th National Space Symposium offered many perspectives on national security and numerous space-related issues. Presenting a view from Air Force Space Command was Lt. Gen. John T. Sheridan, USAF, commander, Space and Missile Systems Center, Air Force Space Command speaking on "Air Force Space Acquisition." 
Sheridan listed seven things that make progress in acquisition difficult:
The need to fill gaps because of the shrinking industrial base, cost increases, strain on single suppliers, and low volume
Conflict of Interest issues the can require the approach to be tailored for each acquisition process in oder to avoid losing viable competitors
Increasing product and process quality issues spread across many systems
More complex acquisition forms to follow, more rigorous Nunn-McCurdy rules, more executive reports, and additional oversight
Recent tightening on use of undefinitized contract actions (UCAs)
An incresaingly impatient user community that needs applications faster, more quantity, higher quality, faster turnaround, and more control
Fewer experienced acquisition professionals who can hit the ground running when they're assigned to a program
Sheridan said Air Force Space Command is improving the space acquiistion process. "We have 200 new hires we need to train and put to work in the programs," he said. "And we're putting four new satellites into space this year, I can't think of the last time we did that."
He also recommended the book, A Fiery Peace in a Cold War: Bernard Schriever and the Ultimate Weapon, by Neil Sheehan for insight into how acquisition could be run. "Schriever started with a small team, but was great at drawing expertise from them," he said. "He gave program leaders the freedom to decide how they ran their programs. Despite criticisms and launch failures, he persevered."
Photo by Tom Kimmell
This article is part of Space Watch: June 2010 (Volume: 9, Issue: 6).
---
Posted in Spotlight