Space Foundation News
---
AMOS Conference Starts Today in Maui
Written by: developer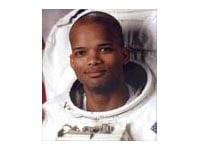 COLORADO SPRINGS, Colo. (Sep. 14, 2010) — The Space Foundation will be front and center this week at the 11th annual Advanced Maui Optical and Space Surveillance Technologies (AMOS) conference in Maui, Hawai'i. Involvement includes a reception for young space professionals, education programs for teachers and students and a keynote presentation by Space Foundation Chief Executive Officer Elliot Holokauahi Pulham. The conference runs Sept. 14-17.
In partnership with the Maui Economic Development Board (MEDB), the Space Foundation will conduct two Audience with an Astronaut sessions for school children and a Space in the Classroom workshop for teachers from the Maui area. These two programs have been very successful at the National Space Symposium, the Space Foundation's annual gathering of the global space community.
On Thursday, Sept. 16, the Space Foundation and the MEDB will give 300 students from seven Maui area schools the opportunity to listen to a former NASA astronaut CAPT Robert L. Curbeam, Jr., USN (Retired), ask questions about space travel and have their pictures taken with Curbeam. The students will participate in hands-on activities conducted by the Air Force Research Lab and then attend a session hosted by Analytical Graphics, Inc. (AGI) on video animations using AGI's Satellite Tool Kit software. The students will also have an opportunity to explore the AMOS Exhibit Center where they will see the latest in space surveillance technology.
Watch for more updates later this week.
Pictured: CAPT Robert L. Curbeam, Jr., USN (Retired)
---
Posted in Space Foundation News