Space Foundation Press Releases
---
Space Foundation Offers Scholarship for Hawai'ian Teacher
Written by: developer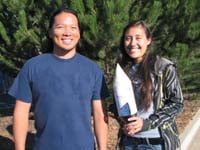 COLORADO SPRINGS, Colo. (Sep. 15, 2010) — Educators of Hawai'ian or part-Hawai'ian ancestry or who work with pre-K-12 students of Hawai'ian or part-Hawai'ian ancestry have an extraordinary opportunity to travel to Colorado Springs – for free – to learn how to use space in the classroom.
Each year, the Space Foundation provides professional development opportunities for a qualified Hawai'ian educator through the Lucy Enos Memorial Scholarship, which covers tuition, fees, travel expenses and lodging for the recipient to travel to Colorado Springs and participate in one of the Space Foundation Discovery Institute week-long Space Across the Curriculum courses. Typically, one scholarship is awarded annually; the next recipient will attend classes during the summer of 2011.
The application deadline is April 15, 2011.
Scholarship Honors Space Foundation CEO's Grandmother
Established in 2005 and funded by Space Foundation Chief Executive Officer Elliot Holokauahi Pulham and his wife, Cynthia A. Pulham, the scholarship honors the memory of Elliot's grandmother, Lucy Enos, who was born in Pahala, Hawai'i, in 1898. Enos' father was a Scottish immigrant and her mother, Keali'iholokahiki, was a native Hawai'ian. Lucy married Henry Enos and together they raised a son, a daughter, and three adopted children while successfully homesteading a sugar plantation in Pahala and a cattle ranch on lands in Kioloka'a and Kamaoa. Enos died in Hilo, Hawai'i, in 1976.
Scholarship Covers Expenses and Tuition
The scholarship provides up to $2,000 spending allowance for travel, meals and lodging expenses and full tuition and fees for the selected teacher to attend any one of the Institute's week-long courses.
The courses cover topics ranging from rocketry and robotics to astronomy and living and working in space and are designed to help teachers use space themes in their classrooms to enable improved student performance in literacy, science, technology, engineering, mathematics and other subject areas. The teacher may elect to receive continuing education or graduate academic credit for the course; graduate credit may be applied toward one of several master's degrees offered by the Space Foundation and partner universities.
The Space Across the Curriculum classes – and the Lucy Enos Memorial Scholarship – support the Space Foundation's mission to "advance space-related endeavors to inspire, enable and propel humanity." Space Foundation programs provide educators across the country with space-related science, technology, engineering and mathematics (STEM) education knowledge and content that is instantly transferable to the classroom.
The full-day, week-long classes are held at the Space Foundation Discovery Institute, 105 Coleridge Ave., Colorado Springs, Colo.
Scholarship applicants should become familiar with Space Foundation teacher training and Space Across the Curriculum programs by visiting the Space Foundation website at www.spacefoundation.org/education.
Interested teachers should apply by submitting a letter, not exceeding two pages, detailing the motivation for applying, interest in space themes in the classroom, what the applicant hopes to gain from the experience, and how the knowledge gained will be applied in the classroom. The application letter must be endorsed with a letter of support by a principal or other supervisor.
Applications must be received no later than April 15, 2011, and should be addressed to:
Iain Probert, vice president – education
Space Foundation
310 S. 14th Street
Colorado Springs, CO 80904
The recipient will be notified in early May 2011.
Past winners have included, among others: a high school mathematics teacher at Ke Kula Kaiapuni 'o Anuenue, Honolulu; and a sixth grade physical science teacher at Kamehameha Schools Middle School, Hawai'i Campus, Keaau.
About the Space Foundation
The Space Foundation is a global, nonprofit organization and the foremost advocate for all sectors of the space industry – civil, commercial, military and intelligence. Founded in 1983, the Space Foundation is a leader in space awareness activities, educational programs that bring space into the classroom, and major industry events, including the National Space Symposium, all in support of its mission "to advance space-related endeavors to inspire, enable and propel humanity." An expert in all aspects of the global space industry, the Space Foundation publishes The Space Report: The Authoritative Guide to Global Space Activity and provides three indices that track daily performance of the space industry. Through its Space Certification and Space Technology Hall of Fame® programs, the Space Foundation recognizes space-based technologies and innovations that have been adapted to improve life on Earth. Headquartered in Colorado Springs, the Space Foundation conducts research and analysis and government affairs activities from its Washington, D.C., office and has field representatives in Houston, Texas, and Cape Canaveral, Fla. For more information, visit www.SpaceFoundation.org. Follow us on Twitter, Facebook and LinkedIn, and read about the latest space news and Space Foundation activities in Space Watch.
Pictured: previous Lucy Enos Memorial Scholarship winners attended a Space Foundation rocketry class.
 
---
Posted in Space Foundation Press Releases