Spotlight
---
OEL Launches Utility Base Layers
Written by: developer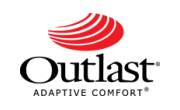 Outlast Technologies, a Space Foundation Space Certification Program Corporate Patrons Partner, has announced a new licensee. OEL Worldwide Industries is launching Structurewear – an all-purpose line of base layers featuring Outlast® heat management technology.
OEL Structurewear is designed to be worn under any work uniform, sports clothing, outdoor wear or business attire. The base layers offer triple the benefits with Outlast® technology: heat, odor and moisture management.
How Outlast® Technology Works
Designated as a Certified Space Technology by the Space Foundation and originally developed for NASA, Outlast® technology proactively manages heat to reduce discomfort from fluctuations in skin temperature.
Outlast® responds to changes in skin temperature by absorbing excess heat and storing it until there is a change in temperature, then releases it as needed. This continuous cycle allows the wearer to stay at a balanced temperature for everyday comfort, and more comfort means better performance.
About OEL Worldwide Industries
OEL Worldwide Industries is a small business that has for the past 20 years supplied the telecommunications, electrical, utility, power and transmission, fiber optics and CATV industries. Based in Palmer Lake, Colo., the company is a leader in the development, manufacturing and distribution of Arc Flash Clothing and Double Insulated Tools. For more information, visit oelstructurewear.com/.
About Outlast Technologies, Inc.
Outlast Technologies, Inc., a privately held U.S. corporation, is the worldwide leader in phase change materials and applications. Outlast® technology is the heat management technology originally developed for NASA that enables any textile to absorb, store and release heat. Outlast® technology pro-actively responds to changes in skin temperature to manage heat and reduce moisture for everyday comfort. For more information, visit www.outlast.com.
This article is part of Space Watch: November 2010 (Volume: 9, Issue: 11).
---
Posted in Spotlight