Space Foundation Press Releases
---
Space Foundation Congratulates SpaceX on Launch
Written by: developer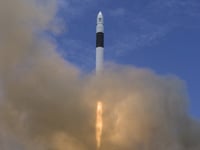 COLORADO SPRINGS, Colo. (Dec. 9, 2010) — The Space Foundation congratulates SpaceX on becoming the first commercial company in history to re-enter a spacecraft from low-Earth orbit.
"SpaceX has a bold and aggressive vision for cost-effective, reliable commercial space transportation — and it's certainly exciting watching them deliver," said Space Foundation Chief Executive Office Elliot Pulham. "The Space Foundation believes development of a robust commercial space industry must move swiftly to fill the gaps in the U.S. space program and keep the nation in a leadership position in space. Yesterday's launch was an important step."
SpaceX launched its Dragon spacecraft into low-Earth orbit atop a Falcon 9 rocket yesterday morning from Launch Complex 40 at the Air Force Station at Cape Canaveral. The Dragon spacecraft orbited the Earth at speeds greater than 17,000 miles per hour, reentered the Earth's atmosphere and landed in the Pacific Ocean in the afternoon.
SpaceX is the first commercial company to successfully recover a spacecraft reentering from low-Earth orbit and only six nations or government agencies have done it: China, the European Space Agency, India, Japan, Russia and the U.S.
The flight was the first under NASA's Commercial Orbital Transportation Services (COTS) program to develop commercial supply services to the International Space Station (ISS). SpaceX is scheduled to fly at least 12 cargo missions to and from the ISS. Ultimately, SpaceX says it plans to carry astronauts aboard the Falcon 9 rocket and Dragon spacecraft.
About the Space Foundation
The Space Foundation is a global, nonprofit organization and the foremost advocate for all sectors of the space industry – civil, commercial, military and intelligence. Founded in 1983, the Space Foundation is a leader in space awareness activities, educational programs that bring space into the classroom, and major industry events, including the National Space Symposium, all in support of its mission "to advance space-related endeavors to inspire, enable and propel humanity." An expert in all aspects of the global space industry, the Space Foundation publishes The Space Report: The Authoritative Guide to Global Space Activity and provides three indices that track daily performance of the space industry. Through its Space Certification and Space Technology Hall of Fame® programs, the Space Foundation recognizes space-based technologies and innovations that have been adapted to improve life on Earth. Headquartered in Colorado Springs, the Space Foundation conducts research and analysis and government affairs activities from its Washington, D.C., office and has field representatives in Houston, Texas, and Cape Canaveral, Fla. For more information, visit www.SpaceFoundation.org. Follow us on Twitter, Facebook and LinkedIn, and read about the latest space news and Space Foundation activities in Space Watch.
# # #
---
Posted in Space Foundation Press Releases