Space Foundation News
---
Space Foundation CEO Featured on The Space Show
Written by: developer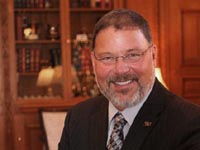 COLORADO SPRINGS, Colo. (Jan. 6, 2011) — Space Foundation Chief Executive Officer Elliot Pulham was the featured guest on The Space Show, a radio broadcast that focuses on issues influencing outer-space commerce and space tourism, on Jan. 5. To listen to the hour-long broadcast, click here.
During the broadcast, Pulham talked with host Dr. David Livingston and responded the calls and emails from listeners. Topics included:
The need for sustained investment in new technologies
Whether fundamental research should be in the private or public domain
The factors that motivate – and fail to motivate – the development of new space technologies
NASA's role in space research and how government funding policies and priorities hamper NASA's success
The need for international collaboration in space
The decline of science, technology, engineering and math (STEM) proficiency in the U.S. and potential Solutions
Pulham, a recognized space expert and advocate, is frequently sought out by the media to provide independent, unbiased insight into space issues. 
 
---
Posted in Space Foundation News