Space Foundation Press Releases
---
"Emerging Markets and Applications" is Featured Panel at the 27th National Space Symposium
Written by: developer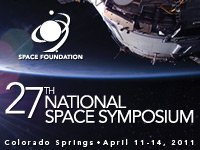 COLORADO SPRINGS, Colo. (Mar. 7, 2011) — The panel discussion "Emerging Markets and Applications" will add an exciting dimension to the 27th National Space Symposium by focusing on new commercial and non-traditional space markets. Presented by Euroconsult, the panel will be moderated by Susan Irwin, president of Euroconsult US, Inc., and comprises Robert T. Bigelow, president and founder, Bigelow Aerospace, LLC; Gwynne Shotwell, president, SpaceX; George Whitesides, chief executive officer and president, Virgin Galactic.
The premier gathering of the global space community, the 27th National Space Symposium will be held April 11-14, at The Broadmoor Hotel in Colorado Springs, Colo. The agenda covers a broad range of space-related topics; commercial space development is perhaps one of the most topical and controversial. The panelists represent three companies on the leading edge of commercial space development.
About Bigelow Aerospace, LLC
Founded in 1999, Bigelow Aerospace is a general contracting, investment, research and development company that concentrates on achieving economic breakthroughs in the costs associated with the design, development and construction of habitable space stations, space transportation and launch facilities for private enterprise use. Based in Las Vegas, Bigelow Aerospace launched orbiting prototypes Genesis I and Genesis II, in 2006 and 2007, and today the company is expanding rapidly.
About SpaceX
SpaceX, founded in 2002, is developing a family of launch vehicles and spacecraft that is increasing the reliability and performance of space transportation, while ultimately reducing costs by a factor of ten. With the Falcon family of rockets, SpaceX has a diverse manifest of more than 40 launches to deliver commercial satellites to orbit. After the Space Shuttle retires, the Falcon 9 and SpaceX's Dragon spacecraft will start carrying cargo, including live plants and animals, to and from the International Space Station for NASA. Falcon 9 and Dragon were developed to one day carry astronauts.
About Virgin Galactic
Virgin Galactic is a company within Sir Richard Branson's Virgin Group that plans to provide suborbital spaceflights to the paying public, along with suborbital space science missions, orbital launches of small satellites and, further in the future, orbital human spaceflights. The company's new spaceship, the VSS Enterprise, and Mothership, the VMS Eve, share much of the same basic design as Virgin Galactic's SpaceShipOne, but are being built to carry six customers on suborbital space flights, allowing an out-of-the-seat zero gravity experience and offering views of the planet from space. The VSS Enterprise test flight program will continue through 2011, prior to commercial operations which will be based at Virgin Galactic's future headquarters at Spaceport America in New Mexico. 
About Euroconsult
Euroconsult is the leading international consulting and analysis firm specializing in space applications, communications and Earth observation. Euroconsult provides strategic consulting and analysis and develops comprehensive research reports and forecasts. Euroconsult has more than 560 public and private sector clients in 50 countries and is based in Paris with offices in Montreal and Washington, D.C.
Register for the 27th National Space Symposium
Take advantage of Early Bird rates by registering for the 27th National Space Symposium before March 18 at www.nationalspacesymposium.org/register.
27th National Space Symposium Co-Sponsors
Confirmed co-sponsors include: ADD STAFF; a.i. solutions; Analytical Graphics, Inc. (AGI); ARES Corporation; Arianespace; ATK; Ball Aerospace & Technologies Corp.; Blue Ridge Networks; The Boeing Company; Booz Allen Hamilton; Cisco Systems, Inc.; Euroconsult; Fisher Space Pen Co.; GMV; General Dynamics; IBM; ILA Berlin Air Show; Integral Systems; Intelsat General Corporation; International Academy of Astronautics (IAA); International Space University (ISU); Iridium; Lockheed Martin; Maui Economic Development Board (MEDB); Moog; Northrop Grumman; Paradigm; Pratt & Whitney Rocketdyne; QinetiQ; Raytheon; SAIC; SES World Skies; Space Generation Advisory Council (SGAC) ; SpaceSystems/Loral; SpaceX; Stellar Solutions; Swedish Space Corporation (SSC); United Launch Alliance; and United Space Alliance. Aviation Week; Defense Systems; and Space News International are official media partners. Additional sponsorship opportunities are available; interested companies should contact [email protected].
About the Space Foundation
The Space Foundation is a global, nonprofit organization and the foremost advocate for all sectors of the space industry – civil, commercial, military and intelligence. Founded in 1983, the Space Foundation is a leader in space awareness activities, educational programs that bring space into the classroom, and major industry events, including the National Space Symposium, all in support of its mission "to advance space-related endeavors to inspire, enable and propel humanity." An expert in all aspects of the global space industry, the Space Foundation publishes The Space Report: The Authoritative Guide to Global Space Activity and provides three indices that track daily performance of the space industry. Through its Space Certification and Space Technology Hall of Fame® programs, the Space Foundation recognizes space-based technologies and innovations that have been adapted to improve life on Earth. Headquartered in Colorado Springs, the Space Foundation conducts research and analysis and government affairs activities from its Washington, D.C., office and has field representatives in Houston, Texas, and Cape Canaveral, Fla. For more information, visit www.SpaceFoundation.org. Follow us on Twitter, Facebook and LinkedIn, and read about the latest space news and Space Foundation activities in Space Watch.
# # #
---
Posted in Space Foundation Press Releases