Space Foundation News
---
Space Shuttle Posters, Postcards and Art Prints Benefit Education Programs
Written by: developer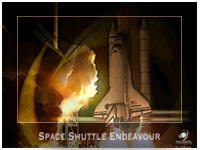 COLORADO SPRINGS, Colo. (Apr. 21, 2011) -- The Space Foundation is selling posters, postcards and art prints featuring six stunning Space Shuttle designs - and using the proceeds to fund STARS classroom-enrichment programs and teacher scholarships to Space Across the Curriculum courses.
Beautiful Design, Great Price, Free Shipping
The digital designs - created exclusively for the Space Foundation - are based on original NASA photography of the Space Shuttles Enterprise, Columbia, Challenger, Discovery, Atlantis and Endeavour. As the Space Shuttle program approaches its final flight, this beautiful artwork is a stunning and lasting tribute to the more-than-30 years the Shuttle has flown.
The 24" x 32" posters are printed on heavy, high-quality poster stock with commercial-grade inks and can be used as is or framed. The price is only $19.95 and a set of all six posters in only $99.75 - six for the price of five! And, for a limited time, the shipping is FREE!
The six-postcard set includes one 6" X 9" postcard of each of the six Space Shuttles, beautifully packaged in an vellum envelope. The price is only $12.95 for the set with FREE shipping (for a limited time).
The limited-edition 18" x 24" Giclée fine art prints are ready for framing and the museum-quality archival inks and paper resist fading and weathering. Each print is custom ordered - and shipping is FREE. Each print is $99.00 and the set of six is only $495.
Great Cause
The net proceeds from the posters, postcards and art prints support the Space Foundation's education programs, which are developing the next generation of space professionals - and building the overall technological strength of the nation - through a wide variety of programs that stimulate students' interest and skills in science, technology, engineering and mathematics (STEM). A key component of the program is our Space Across the Curriculum courses, week-long teacher professional development classes that focus on national standards and STEM principles. The courses are held at the Space Foundation Discovery Institute in Colorado Springs. The experiential, hands-on courses offer PreK-12 educators with space-related knowledge and lessons that are instantly transferable to the classroom. Participants can earn continuing education credits or graduate credits that apply towards master's degrees in multiple related disciplines. For more information, click here.
The Space Foundation's NEW HORIZONS community-centered science enrichment program infuses STEM education into a community through student programs, teacher workshops, field trips, town-hall meetings and astronaut and space professional visits. And, the STARS Program is a hands-on student science enrichment program that is customized to meet schools' specific academic needs. The highly regarded Space Foundation Teacher Liaison program is in its eighth year and has 360 active participants - all educators with a passion for space who want to inspire the next generation of students to pursue and excel in science, technology, engineering and math.
The art proceeds will support teacher scholarships for Space Across the Curriculum courses this summer and fund STARs programs for the 2011-212 school year.
For more information on Space Foundation education programs, click here.
---
Posted in Space Foundation News