Spotlight
---
Chinese Space Leader Pushes for Cooperation
Written by: developer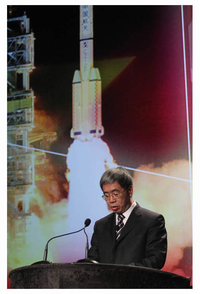 Lei Fanpei, vice president of the China Aerospace Science and Technology Corporation (CASC), who was among 11 Chinese space officials in three separate delegations attending the 27th National Space Symposium, called for international cooperation in space.
Saying that China has a strong cooperative history with many countries in a variety of space activities, Lei said that cooperation must be based on principles of mutual benefit, equality and peaceful use.
"CASC has strong commitment to social responsibilities, as seen in disaster, meteorological, remote sensing applications," said Lei. "There are three areas for cooperation: mutually beneficial commercial programs, human spaceflight and exploration and applications, including remote sensing."
Noting that China's space industry once had a good relationship with the U.S. in launch services and acquisition — 21 commercial launches with 26 U.S.-made satellites — Lei said that export control has "crippled cooperation."
Saying that he hoped to reverse that trend, Lei noted that, in recent years, China has established an increasingly close relationship with the Space Foundation.
He also said that, in 2010, CASC carried out 15 launches, transporting 20 satellites into orbit.
Pictured: Lei Fanpei speaking at the 27th National Space Symposium
This article is part of Space Watch: June 2011 (Volume: 10, Issue: 6).
---
Posted in Spotlight