Spotlight
---
Carlson Talks About "Impressive" Launch Campaign
Written by: developer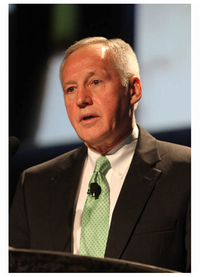 National Reconnaissance Office (NRO) Director Bruce A. Carlson, speaking at the 27th National Space Symposium, discussed his organization's impressive and unprecedented launch campaign. "This campaign, plus excellent work with existing satellites, has eliminated and mitigated gaps," he said, noting that a nine-month gap has been reduced to just 33 days.
The secret, he says, is staying on top of it. "Insight, oversight is not management. Management is management."
Speaking about potential commercial manned space vehicles, Carlson said that the NRO is in a joint certification process with NASA on SpaceX's Falcon 9, noting that the NRO is accepting NASA analysis and certification. "If Falcon 9 meets requirements, much like any other launcher, NRO will look for the most cost-effective and capable option."
Carlson had to rush from the Symposium to Vandenberg Air Force Base for the fifth NRO launch in seven months, which took place on April 14. The United Launch Alliance Atlas V rocket was carrying an NRO payload in support of national defense.  
This article is part of Space Watch: June 2011 (Volume: 10, Issue: 6).
---
Posted in Spotlight