Space Foundation News
---
Space Foundation and Charles County (Md.) Public Schools Host Chirag Parikh
Written by: developer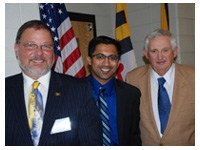 COLORADO SPRINGS, Colo. (Jul. 26, 2011) — On July 26, the Space Foundation co-hosted a luncheon with Charles County (Md.) Public Schools featuring guest speaker Chirag Parikh, Director of Space Policy for the White House National Security Council.
The luncheon was held at North Point High School in Charles County and the more than 100 attendees included members of the Charles County Public Schools board, administration, teachers and students, as well as Space Foundation team members, representatives of local organizations and the special assistant to Senator Barbara Mikulski.
Parikh told the group that when he was in second grade his class watched a Space Shuttle launch. He said the power of that experience inspired his interest in space. He said "small seeds" were planted in his brain and he spoke of the important role teachers play in cultivating the "seeds" planted in their students.
This summer, for the fifth consecutive year, the Space Foundation is providing teacher professional development courses for Charles County (Md.) Public Schools educators with the goal of helping teachers inspire their students' interest in science, technology, engineering and math (STEM).
Pictured from left: Space Foundation CEO Elliot Pulham; Chirag Parikh, Director of Space Policy for the White House National Security Council; James E. Richmond, superintendent of Charles County (Md.) Public Schools
---
Posted in Space Foundation News