Spotlight
---
Oil Spills Not Too Slippery for Space Technology
Written by: developer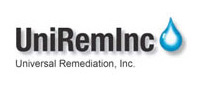 With Florida and Texas soaking in the disastrous BP oil spill, Space Certification Program partner and 2008 Space Technology Hall of Fame® Inductee UniRemInc offered to demonstrate how its unique Petroleum Remediation Product (PRP) could help clean up the despoiling oil. There were no takers.
Now Montana is suffering with the Yellowstone River Exxon oil spill and UniRemInc President Ray Tarasi offered to personally drive a truck load of PRP out west from its home office in Pittsburgh to demonstrate the product's efficacy. The Montana Governor's office indicated that any decision on its use is up to Exxon.
PRP provides safe and permanent removal of petroleum-based pollutants and can be spread over water or soil to absorb, contain and safely dispose of hydrocarbon pollutants. The basic delivery system is a result of NASA biological encapsulation research and the orbital production of microspheres. Essentially, highly absorbent hollow spheres of beeswax PRP binds with hydrocarbons and provides nutrients to naturally occurring microbes. The feeding microbes create enzymes that biodegrade the oil.
Clean water anyone?
See all of the Space Foundation certified space technologies here.
This article is part of Space Watch: August 2011 (Volume: 10, Issue: 8).
---
Posted in Spotlight