Spotlight
---
NASA/ESA Discussing ATV Collaboration
Written by: developer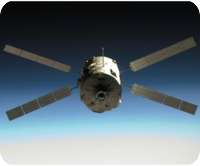 The European Space Agency (ESA) and NASA are discussing potentially combining parts of ESA's existing Automated Transfer Vehicle (ATV) space station freighter with NASA's U.S. Multi-Purpose Crew Vehicle (MPCV) for human voyages into deep space.
According to Spaceflight Now, the ATV's service module could be attached to the MPCV, or Orion, capsule for crewed expeditions to the International Space Station (ISS), asteroids, the Moon, Mars and a number of other destinations. The service module includes a network of computers and avionics, four large thrusters, propellant tanks and the ATV's power generation system with four solar array wings.
When the decision to extend the life of the ISS until 2020 was made, ESA bartered with NASA to provide five robotic ATV missions to resupply the station through 2014 instead of paying its 8 percent share of the lab's common operating costs in cash. The first two ATV missions are already complete, successfully delivering food, clothing, computers, experiments, spare parts and other gear on flights in 2008 and 2011.
NASA has characterized the negotiations as "preliminary" but said the agencies could come to an agreement on cooperation of missions beyond low Earth orbit this fall. ESA may then need to await formal approval of any new project at the next meeting of its governing body in late 2012.
The ATVs are built for ESA by EADS Astrium in Bremen, Germany. Lockheed Martin Corp. is building the Orion/MPCV spacecraft under a contract to NASA that also includes development of a service module.
Pictured: ESA's Automated Transfer Vehicle approaching the International Space Station, courtesy NASA
 
This article is part of Space Watch: September 2011 (Volume: 10, Issue: 9).
---
Posted in Spotlight