Spotlight
---
Psoria‐Shield™ Launches Psoria‐Light™
Written by: developer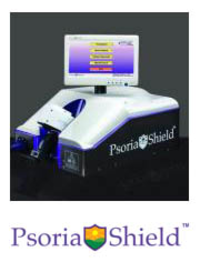 Psoria‐Shield™ Inc., has launched sales for its flagship medical device, the deep UV LED targeted phototherapy device for treating psoriasis, eczema, vitiligo and other UV‐treatable skin disorders.
Recognized by the Space Foundation as a Certified Space Technology™, the Psoria‐Light™ patent‐pending innovation uses advanced deep UV LED technology originally developed for NASA, the European Space Agency (ESA) and the U.S. military for photoelectron generation as part of the charge management system for gravitational wave measurement systems.
Psoria‐Shield™ was established in 2009 to create less toxic non‐invasive treatment options for patients suffering from UV‐treatable skin disorders. President and Founder Scot Johnson, a medical device design engineer, has been developing cutting‐edge medical devices within the Tampa Bay area for over 16 years.
Targeted UV phototherapy generally facilitates clearance of skin conditions within six to ten treatments, and up to five times faster than non‐targeted UV phototherapy treatment currently available. Targeted UV phototherapy has only a local effect on the skin, and is a less toxic treatment option than many of the biologic and systemic treatments currently being utilized to treat psoriasis, eczema and vitiligo. Psoria‐Light™ is sold to dermatologists and qualified healthcare providers.
Patients interested in finding treatment in their area can visit: http://www.psoria-shield.com/how-get-psoria-light-treatment.
About Psoria‐Shield
Psoria‐Shield advocates the use of targeted UV phototherapy to address those aspects of patients' disease which reduce their Quality of Life the most, first. By addressing the major detractors from patients' Quality of Life initially, patients and healthcare providers can address the remaining regions of skin with less aggressive therapy. Learn more about Psoria-Shield at www.psoria-shield.com.
About Space Certification
The Space Foundation launched the Space Certification program in 1996 to demonstrate how products and services developed for space improve life on Earth. This unique branding program allows qualifying products and services to display the official Space Certification seal and to benefit from cooperative marketing programs.
The Space Foundation works closely with NASA, ESA and other space organizations to identify and validate products and services eligible for recognition. There are three classifications of Space Foundation Certified Products:
Certified Technology Products – Products or services that directly result from space technology or space program development such that the product exists because of advances in space technology;
Certified Educational Products – Products used in educational environments to stimulate interest and knowledge about space; and
Certified Imagination Products – Entertainment products, games or toys used to increase interest in and excitement for space and inspire new generations to take an active interest in space.
For more information, go to www.SpaceCertification.org.
This article is part of Space Watch: September 2011 (Volume: 10, Issue: 9).
---
Posted in Spotlight