Space Foundation Press Releases
---
Gen. Thomas S. Moorman, Jr., Named 2012 General James E. Hill Lifetime Space Achievement Award Honoree
Written by: developer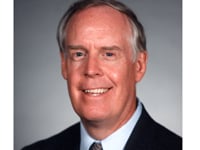 COLORADO SPRINGS, Colo. (Oct. 24, 2011) — Gen. Thomas S. Moorman, Jr., USAF, Ret., former vice chief of staff of the Air Force will be presented with the Space Foundation's highest honor, the General James E. Hill Lifetime Space Achievement Award, at a special luncheon sponsored by Raytheon on April 18, 2012, at the 28th National Space Symposium at The Broadmoor Hotel in Colorado Springs, Colo. Named for the Space Foundation's former, long-time chairman, the General James E. Hill Lifetime Space Achievement Award is one of the global space community's highest honors; past recipients have included Norman Augustine, Gen. Bernard Schriever, Buzz Aldrin, Peter Teets, Dr. Hans Mark and E.C. "Pete" Aldridge, among others.
About Moorman
In addition to his role as vice chief of staff, Moorman's many Air Force accomplishments include serving as: commander and vice commander of Air Force Space Command; director of Space and Strategic Defense Initiative Programs in the Office of the Assistant Secretary of the Air Force for Acquisition at the Pentagon; director of the Office of Space Systems; and vice commander of the 1st Space Wing. He has served on the Aerospace Corporation board of trustees and is currently the vice chairman. He also served on the Space Foundation board of directors from 1997 to 2010, and was chairman of the board from 2008 to 2010. In 2008, he retired as a partner with the international management and technology consulting firm Booz Allen Hamilton, where he had been responsible for the firm's Air Force and NASA businesses.
Moorman has received numerous awards for contributions to the nation's and Air Force space programs including the Dr. Robert H. Goddard Memorial Trophy, the General Thomas D. White Space Trophy, the American Astronautical Society's Astronautics Award and the Space Foundation Space Achievement Award. He was selected by Space News as one of the top ten contributors to the nation's space program.
Moorman earned a Bachelor of Arts from Dartmouth College, Hanover, N.H.; a master's degree in business administration from Western New England College (now Western New England University), Springfield, Mass.; and a master's in political science from Auburn University, Auburn, Ala. He has also been awarded two honorary degrees – a doctorate in management from Colorado Technical University, Colorado Springs; and a Doctor of Laws degree from Clemson University, Clemson, S.C.
About the Award
The Space Foundation annually presents the Hill award in honor of its late, long-time chairman, Gen. James E. Hill, USAF, Ret. The award recognizes outstanding individuals who have distinguished themselves through lifetime contributions to the welfare or betterment of humankind through exploration, development and use of space, or through use of space technology, information, themes or resources in academic, cultural, industrial or other pursuits of broad benefit to humanity. Tickets for the award luncheon can be purchased by Symposium attendees, but sell out quickly. For details see www.NationalSpaceSymposium.org.
About the 28th National Space Symposium
The annual Space Foundation National Space Symposium brings together all sectors of space to highlight accomplishments and address opportunities and issues facing the global space community today.
Returning for 2012 will be the popular cyberspace and new generation events. Cyber 1.2 will be held on Monday, April 16, and requires separate registration. An expanded New Generation Space Leaders program for young, up-and-coming space professionals, age 35 and younger, will be offered throughout the four-day Symposium.
Register Now
The Space Foundation is offering a Super Early Bird rate with up to $500 in savings for industry attendees who register before Jan. 13, 2012. 28th National Space Symposium details, including the initial agenda, how to get the Super Early Bird rate and how to register securely online can be found at www.NationalSpaceSymposium.org.
28th National Space Symposium Co-Sponsors
Confirmed co-sponsors include: Analytical Graphics, Inc. (AGI); ATK; Ball Aerospace & Technologies Corp.; Blue Ridge Networks; Maui Economic Development Board (MEDB); Moog; Northrop Grumman; Pratt & Whitney Rocketdyne; Raytheon; SES Government Solutions. Aviation Week and Space News are the official media partners. Sponsorship information can be found at: www.NationalSpaceSymposium.org.
About the Space Foundation
The foremost advocate for the space industry and an expert in all aspects of space, the Space Foundation is a global, nonprofit leader in space awareness, educational programs that bring space into the classroom and major industry events, including the National Space Symposium, all in support of its mission "to advance space-related endeavors to inspire, enable and propel humanity." The Space Foundation publishes The Space Report: The Authoritative Guide to Global Space Activity and provides three indices that track daily performance of the space industry. Through its Space Certification and Space Technology Hall of Fame® programs, the Space Foundation recognizes space-based technologies and innovations that have been adapted to improve life on Earth. Founded in 1983 and headquartered in Colorado Springs, the Space Foundation conducts research and analysis and government affairs activities from its Washington, D.C., office and has a field office in Houston, Texas. For more information, visit www.SpaceFoundation.org. Follow us on Twitter, Facebook, and LinkedIn, and read about the latest space news and Space Foundation activities in Space Watch.
Pictured: Gen. Thomas S. Moorman, Jr., USAF, Ret.
---
Posted in Space Foundation Press Releases