Report from Washington, D.C.
---
Committee Looks at JWST Future
Written by: developer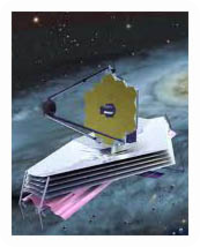 Congress continues to discuss funding for the James Webb Space Telescope (JWST). On Dec. 6, the House Science, Space and Technology Committee held a hearing entitled The Next Great Observatory: Assessing the James Webb Space Telescope, where Committee Chair Rep. Ralph Hall (R-TX) stated his support for the JWST, adding that "NASA's latest replan for the JWST is the agency's last opportunity to hold this program together."
Rep. Eddie Bernice Johnson (D-TX), ranking member of the Committee, expressed strong support for the program, but warned "this Committee is going to need regular updates on this project from NASA so that we can have confidence that its milestones are being met and so that we can have early warning of any problems that may develop."
Witnesses testifying at the hearing were:
Rick Howard, JWST program director, NASA
Dr. Roger Blandford, professor of physics, Stanford University
Dr. Garth Illingworth, professor and astronomer, UCO/Lick Observatory, University of California Santa Cruz
Jeffrey Grant, sector vice president and general manager, Space Systems Division, Northrop Grumman Aerospace Systems
Illingworth said in his testimony that "NASA's replan takes great strides in addressing the major faults identified" with the JWST program, adding "NASA has done a really good job on this replan."
Several members of Congress asked the witnesses about the benefits that JWST would provide. Howard replied, "Scientifically, it's going to allow us to do things we never thought we were going to be able to do." And Blandford said, "It will inspire young people, generate high technology jobs and provide an economic multiplier effect."
To read the Space Foundation's assessment of the JWST, click here.
This article is part of Space Watch: January 2012 (Volume: 11, Issue: 1).
---
Posted in Report from Washington, D.C.