Spotlight
---
Space Certification Partner Wins Award
Written by: developer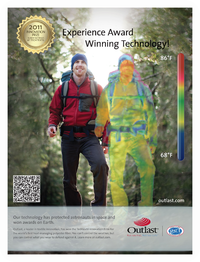 Space Foundation Certification Partner and Space Technology Hall of Fame® inductee Outlast® impressed the international jury of Techtextil (International Trade Fair for Technical Textiles and Nonwovens) and won the Techtextil Innovation Prize 2011 in the category "New Materials" for the development of the world's first heat-managing polyester fiber with phase change materials (PCM).
Outlast PCM has been a Certified Space Technology since 2003 and was inducted into the Space Foundation's Space Technology Hall of Fame in 2005.
The Techtextil Innovation Prize highlights technology, encourages unconventional thinking and intensifies the dialogue among researchers, manufacturers and users. Awards go to outstanding achievements in research, materials and product development and new technology. Last year, seven innovation prizes were selected from 84 entries.
Outlast's PCM bi-component polyester fiber aligns well with underwear and other products worn next to skin such as socks, t-shirts, shirts and trousers. It offers temperature balancing coupled with the characteristics of a conventional polyester fiber, including low moisture absorption; ability to transport moisture; improved wrinkle resistance, superior light, water and wind resistance; and an above average durability. The result is increased comfort-chilling and reduced sweating due to optimum climate regulation. Body temparature fluctuation of as little as 4°F upwards or downwards can create serious health issues, such as fever or hypothermia. PCM can prevent hypothermia by helping maintain healthy body temperature.
Outlast® Technology
Outlast technology was originally developed for NASA to protect astronauts from temperature fluctuations in space. Outlast phase-change materials absorb, store and release excess body heat and  Outlast® Adaptive Comfort® products absorb excess body heat, manage moisture, reduce overheating, reduce chilling, reduce perspiration and continuously adapt to thermal changes. For more information, go to www.outlast.com.
About Space Certification
Products and services that display the Space Certification seal are guaranteed to have stemmed from or been dramatically improved by technologies originally developed for space exploration or to have significant impact in teaching people about the value of space utilization. Space Certification provide a marketing edge for Space Certification partners, demonstrates how space technologies improve life on Earth and makes space more interesting and accessible to everyone. Space Certification products and services have been scrutinized by the Space Foundation, working closely with NASA, the European Space Agency (ESA) and other organizations engaged in space research and development.
For more information on Space Certification, go to www.SpaceCertification.org.
About the Space Technology Hall of Fame
Created by the Space Foundation in 1988, the Space Technology Hall of Fame recognizes the life-changing technologies emerging from the world's space programs; honors the scientists, engineers and innovators responsible; and communicates to the public the importance of these technologies as a return on investment in space exploration. In addition to affording innovators much deserved recognition, the program encourages further innovation. Inducted technologies improve the daily quality of life for millions.
For more information on the Space Technology Hall of Fame, go to www.SpaceTechHallofFame.org.
This article is part of Space Watch: January 2012 (Volume: 11, Issue: 1).
---
Posted in Spotlight