Stats, Facts and Papers
---
The Space Report is on Sale Now
Written by: developer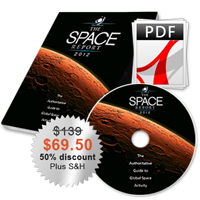 Order your copy of the The Space Report: 2012 before May 1 and receive a 50 percent discount. This is the best deal you'll get on the definitive overview of the global space industry.
Set to be released April 16, The Space Report includes highlights from all space sectors – from defense to exploration – and illustrates how space activity affects people around the world. Providing a wealth of information on global space budgets, revenues and industry performance tracked by the Space Foundation Indexes,The Space Report is valuable to space professionals, students, policymakers, researchers and the media.
New Content for 2102
Discussion of the impact of budget austerity on the global space economy and space programs around the world
Information on global launch capabilities, successes and failures in 2011
Demographic information for the European Space Agency (ESA) and the Japan Aerospace Exploration Agency (JAXA)
Outlook for human spaceflight and global positioning systems in major spacefaring countries
New figures for jobs created and revenue generated by commercialization of NASA spinoffs
First-time data on South Korea's space workforce
Order by May 1 at a special discount of 50 percent off list price (tax and/or shipping may apply). Orders for the 2012 edition will be shipped after April 26, 2012. The 2012 edition will also be available onsite for the special introductory rate at the 28th National Space Symposium from April 16-19, 2012. Special discounts apply until May 1, 2012.
Past issues are also available at discounted rates. Consider donating The Space Report to your favorite libraries or schools.
The Space Foundation welcomes comments, questions and other forms of feedback. The team of researchers who produce The Space Report each year are particularly interested to know which parts of the publication are most useful to you and what you would like to see included in the future. Please feel free to contact us at any time at [email protected]
This article is part of Space Watch: March 2012 (Volume: 11, Issue: 3).
---
Posted in Stats, Facts and Papers